UNLEASH INDUSTRIAL ACTION TO DEMAND JOBS FOR ALL! CAPITALIST "DEMOCRACY" IS A SHAM: ONLY WORKERS UNITED WITH ALL OF THE OPRESSED CAN BRING ABOUT REAL CHANGE
Above: The Handover or Phony Hope Shakes the Hand of Blatant Bigotry. A moment that ought to finally dispel anyone's lingering illusion that capitalist democracy can ever be reformed into a system that operates in the interests of the working class. Obama prepares to calmly hand the administration of the U.S. capitalist state over to Trump just as George W. Bush did for him eight years earlier. The teetering edifice of the capitalist state requires both left and right pillars to keep it from completely collapsing beneath the dead weight of its own contradictions.
November 9 – Hard right-wing candidate Donald Trump – a billionaire capitalist exploiter and extreme racist and misogynist – will become the next president of the U.S.A. In yesterday's election, he defeated the candidate supported by the mainstream of the American capitalist class, Hillary Clinton.
Like most far-right demagogues (including Hitler), Trump poses as a "rebel" and "anti-establishment" figure. Actually, he is a tycoon who is very much part of the capitalist ruling class and a key part of his economic program is big tax cuts for the rich. His main beef with the mainstream of the racist establishment is that they are not openly racist and economically nationalist enough for his liking. His blatant racism serves to protect the capitalist establishment by dividing the masses and diverting their economic frustrations and insecurity onto minorities and other groups in society who are made into scapegoats for the mass inequalities that capitalism inevitably creates. Similarly, his protectionism diverts anger about job losses onto overseas workers, thus shielding the capitalist exploiters in the U.S. from any blame and making the masses think that they have a common interest with their own exploiters in protecting American business.
Eight years ago when Obama was first elected, Trotskyist Platform actually predicted that the inevitable failure of a small-l liberal led regime to improve the lives of the masses could well lead to the eventual takeover of hard right forces in America (and, indeed, in his language Obama was the most liberal-sounding U.S. president in decades). Here is an excerpt from the article we wrote upon Obama first taking office:
That the Obama electoral triumph, if anything, dulled workers' class consciousness means that even the present shift away from the conservative right wing is fragile. Without an understanding that it is the capitalist profiteers who are responsible for unemployment, recession and decay the masses will be vulnerable to right wing demagogy when they see that the new Administration is no more able to satisfy their aspirations than the previous one. The conservatives are waiting in the wing. And they will be able to mobilise right wing activists from amongst the all too many bigoted elements who were horrified that a black person should become President. Hence, there is a real danger that the rise of the liberal Obama could turn out to be just a prelude to a right-wing regime more frightening than Bush's – perhaps led by a Sarah Palin-like figure. While the left rest on their illusory laurels, the frighteningly fascist right are now surely mobilising their forces, stirred up like a wasps' nest ready to strike!

Only by mobilising their own power to squeeze concessions out of the exploiters can the working class begin to address the needs of the American masses and stop the re-emergence of the right. The working class can through industrial action force companies to avoid shedding jobs. And its power can be mobilised in a campaign to demand free health care for all. In all such struggles of the American workers movement, black workers will be at the forefront. These workers will join together the multiracial workers' movement with the ghetto poor in the fight for black liberation.
Although Trump's views and agenda are certainly fascistic, fascism has not yet triumphed in the U.S (nor does it currently hold sway in any other country). Fascism is not just a government of people with a really right-wing agenda but involves the mass mobilisation of the middle class and some of the unemployed (and even politically backward workers) to violently smash all workers' organisations  – like independent trade unions and left-wing parties – and institute a capitalist regime which dispenses with the formalities of parliamentary "democracy." Such a regime can only be instituted by physically defeating an inevitable degree of resistance from the politically conscious, working class masses. Nevertheless, Trump's triumph will greatly encourage fascist outfits in the U.S. and will spur the development of fascist militias. American blacks, First Peoples, Hispanics, Asians, gays, women seeking abortion and leftists will face ever more violent attacks.
Regardless of Trump's particular policies, the normal workings of the capitalist boom and bust cycles mean that in some four to twelve months there will be an economic downturn in the U.S.A and a consequent rise in the unemployment rate. Given the chaotic state of major capitalist economies, this could turn out to be another serious global economic crisis. In that context, mass struggle led by conscious working class and anti-racist forces could weaken the right-wing regime and undermine support for it. However, in the absence of such struggle, the increased economic insecurity could further fuel the flames of fascism.
Trump's ascendancy will also embolden far-right and fascist forces here in Australia. Hard-right Liberal politician Cory Bernardi as well as the LNP MP George Christensen openly backed Trump. And Trump's victory was hailed by the fascistic senator Pauline Hanson of One Nation infamy. Indeed, at a fascist rally in the northern Melbourne suburb of Eltham last weekend against a refugee centre, some of the fascist scum were wearing Trump T-shirts.
Trump's rise will not only boost organised far-right forces but will also incite violent tendencies amongst garden-variety rednecks in Australia. The latter are people who may not be politically active in an extreme right-wing movement but are, nevertheless, simply filled with racial hatred. A couple of months ago, one such redneck murdered 14-year-old Aboriginal youth, Elijah Doughty, near the Western Australia town of Kalgoorlie. Then late last month, Indian-origin bus driver, Manmeet Alisher was cruelly murdered by being set alight with a fire bomb by a man of white Anglo-Saxon appearance, Anthony O'Donohue. O'Donohue, formerly an accountant, was known to harbour fascistic, crackpot conspiracy theories against trade unions. Although the media and cops have done their best to cover up the racist nature of this Brisbane murder the victim's family are sure that it was motivated by racism. Several people with origins from the Indian subcontinent have told Trotskyist Platform comrades the same thing. They pointed out that the Indian man was specifically singled out. One man of Indian background, in explaining how Manmeet's killing was a racist murder, told us that while living in the same multi-cultural Brisbane suburb where the murder took place, Moorooka, he had been attacked by racists and once had to literally run for his life to escape from a white racist who was threatening him.
All this underscores the need to build, here in Australia just as much as in other capitalist countries, a mass mobilisation of trade unionists, Aboriginal people, non-white "ethnic" people and all anti-racists to drive the fascist filth off the streets. This is an urgent necessity of self-defence for all the intended victims of the fascists. Although self-defence action against fascist groups will not directly stop the daily and incessant racist attacks and abuse from the innumerable garden-variety rednecks scattered throughout this country, by landing blows against organised fascists we can send a message to the garden-variety racists out there that they had better pull their heads in. These racists must learn that the organised and united multiracial working class has both the will and the power to stand up and defend anyone who is vulnerable to their racist, cowardly attacks.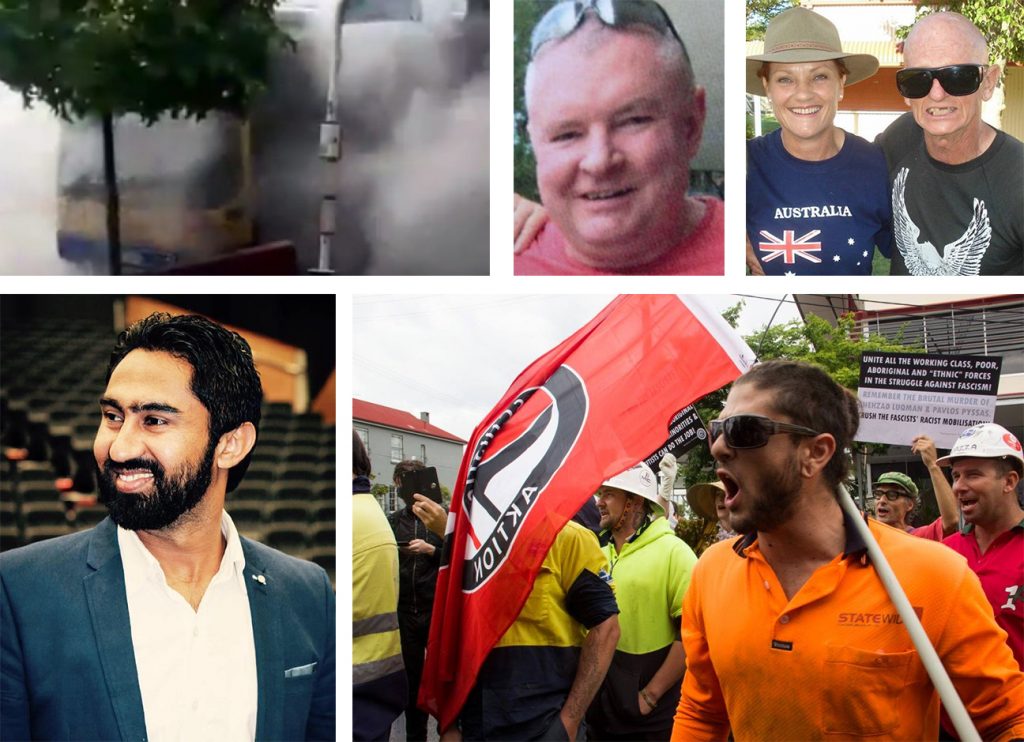 No to Divisive Protectionism: For a Class Struggle Program of Jobs For All!
Trump's victory will also encourage various forces here to more rabidly push for protectionism. In fact, economic nationalism was one of Trump's main points of attraction for the U.S. masses, especially in the Mid-West rust belt. To be sure, when the media reports that working class people in the Mid-West were supporting Trump this can be a bit misleading since, in actual fact, Trump still did not do that well in cities. What they mean by "working class" is people with a lower income rather than in terms of their actual relationship to the means of production. Trump's support came not so much from currently employed industrial workers as it did  from laid-off workers now trying to hustle a living as self-employed contractors or small businessmen or those now in insecure, non-union casual jobs or, perhaps, still unemployed or forced into early retirement. Unionised workers who are brought together at the point of production and united together in unions are, overall, less susceptible to right-wing demagogy than isolated self-employed and unemployed people. And, though it is true that even a portion of unionised workers did vote for Trump, analysis of exit polls actually revealed that the higher the income, the more likely you were to vote for Trump.
We need to firmly oppose economic nationalism here not only because it fuels racism but also because it directly undermines the fight to build actual struggle against the greedy bosses at home. However, we can only successfully oppose protectionism if we counterpose to it a class struggle program of jobs for all – that is, by highlighting the demand that profitable enterprises be forced to increase hiring at the cost of their own profits and then linking this demand to the fight for the ultimate confiscation of the means of production from the capitalist class by the working class. Trotskyist Platform has been emphasising opposition against any form of protectionism and promoting a class struggle program of jobs for all but we will intensify this work by fighting to build more actions promoting this essential perspective.
Unfortunately, much of the Left either themselves embrace economic nationalism – while trying to rid it of it of its openly racist aspects – or just try their best to ignore it. However, any leftist force that capitulates to economic nationalism is an obstacle to the fight for workers' rights whether it happens to call itself socialist, Trotskyist, Marxist-Leninist, anarchist or any other kind of ist. The protectionist ideology of the pro-Democrats, American union bureaucracy has pushed a section of American unionised workers – and many laid off industrial workers – into the arms of far-right populism. The economic nationalist slogans of the current, pro-ALP Australian union leadership should also not be allowed to push Australian workers into the filthy arms of Hanson's One Nation and its ilk who, after all, are the most consistent nationalists of all. Challenging the economic nationalist ideology that is currently dominant in the Australian workers movement is key to unleashing a class struggle fightback to defend our unions, protect workers rights and win jobs for everyone.
Implications for the Leninist Program on International Questions
On international policy, Trump has not disguised the fact that he is going to push an even more openly hostile stance towards socialistic China. He wants to draw capitalist Russia into this task by building an alliance with Russia that would bring the world's two most powerful military powers into a capitalist super alliance. Part of the aim of this perspective is also to weaken the U.S.A's European NATO allies cum imperialist economic rivals. Additionally, there is ideological affinity between the hard right wing in the U.S. and the Putin government. Putin, as well as being a hero to right-wing , "Third Way" (i.e. "neither socialism nor capitalism") conspiracy theory types is also a hero to fascist groups throughout the West (the Australian Defence League here, for example, has openly hailed him) as well as to more mainstream right-wing forces (like racist, Islamophobic senator Jacqui Lambi) because of his government's hard line anti-immigrant and anti-Muslim policies as well as his homophobia.
However, whether Trump and the Far Right's proclivities for an alliance with Russia will be implemented remains to be seen. Trump's regime will be, in effect, an alliance of hard line right wingers like himself and more mainstream figures from the right wing of the Republican Party. The latter are less inclined to an alliance with Russia as they believe the U.S. is strong enough not to share its spoils with any emerging power and do not want to allow a new player into the imperialist club.  Furthermore, Putin himself would probably play hard to get with Trump since he knows the U.S is a weakening empire. He would also not want Russia to play second fiddle to the U.S. too much and would hold out for as many concessions as possible. Furthermore, the Russian bourgeoisie may be hesitant to be pulled in too brazenly into an anti-China alliance since, despite their hostility to socialism (the Russian government from Putin down were, after all, active in the counterrevolution that destroyed the USSR and brought capitalist class rule back to Russia) they stand to make a fortune from selling oil and natural gas to neighbouring China which has few of these resources itself.
Nevertheless, a U.S.-Russia capitalist super alliance is certainly quite possible and if it does transpire this may affect the position that communist internationalists should take towards events in Syria. Whatever effect a Trump presidency has on U.S.-Russia relations, one thing is pretty certain: the Trump ascendancy will see an intensification of open U.S. hostility to the Chinese workers state. So, despite the bureaucratic deformations and capitalist incursions into China – and we must remember that nearly 60% of her economy is controlled and nearly all of her economy's commanding heights (that is, the heavy industries, finance, transport, telecommunications etc) are fully owned by the Chinese workers state, a bigger slice of the economic pie than that enjoyed by the Soviet Russian state during Lenin's time – authentic socialists need to be ready to intensify our struggle to defend socialistic China against imperialist attack and imperialist-backed, anti-communist NGOs.
We live in scary times. The ascendancy of Trump to the U.S. presidency will – in the absence of mass resistance – incite in both the U.S.A and Australia a further escalation of racist attacks on coloured ethnic minorities, Muslims and First Peoples communities. However, we should be aware that the rising of fascistic forces is a sign of the utter decay of capitalism which in its death throes is releasing such noxious fumes. But the system will not die by itself. It needs to be overthrown by the conscious working class-led masses united with all of the oppressed. It is our job to advance the struggle for such a socialist revolution. This is a time when every major capitalist country is seeing the rise of sinister far-right forces: from the U.S.A to Australia to most of Europe to Russia and the Ukraine. In Indonesia a violent racist movement has erupted and targeted the governor of Jakarta purely for his being a member of an ethnic and religious minority. In India a sinister fascistic mass murderer is the prime minister.  In fact, the one great socialistic power in the world, Red China, looks rather good by comparison. It is the one large nation where far-right racist forces based on the majority ethnic community are not on the march.
Why, in Australia, must the flower of Aboriginal youth fall victim to murderous, racist rednecks or become prey for a relentlessly systematic kind of brutal "justice" that continues to send young Aboriginal men and women to languish in jail cells or detention centres for years on end or worse? They are victims of the essentially immoral 200 year-old Australian capitalist racket. As are the brave children, women and men who have been held hostage in the Nauru, Manus Island and Christmas Island hellholes. Can anyone seriously argue that if these asylum seekers came from, say, England or Denmark instead of mainly from the Indian subcontinent and the Middle East that they would be treated in the same heartless manner? In fact, the Australian capitalist state's border control policy provides tacit official sanction to every act of racist violence and xenophobia perpetrated out there on the streets of Australia.
A mighty, radical shift is needed. Any deluded notion of a middle ground that social democrats might be clinging onto is fast falling away beneath their feet and the pieces being greedily gobbled up by the awaiting, wide open fascistic jaws of your Donald Trumps and Pauline Hansons. Now is not the time for sitting on fences. The fence has already collapsed under the combined weight of too many fat, middle class rumps. Increasingly, humanity is faced with a choice between fascism and communism. Behind fascism stands the capitalist, property-rich ruling class which is willing to unleash its nazi dogs as a last resort to protect its ill gotten gains and its global control of immense human and industrial resources. Behind the prospect of communism stands the organised, international working class which is willing and able to seize control of the world's business from the tiny minority of capitalist owners in the name of all the people and then commence work towards a collective, humane and socialistic organisation of society. A handful of countries have already – bravely and with sometimes seemingly intolerable sacrifice – embarked on the road to a communist future despite the perpetual harrassment  and often bloody resistance put up by the imperialist powers. We workers of Australia must offer our sincere respect, our immense gratitude and, most of all, a comradely – critical if necessary but always helping – hand to these frontier workers states because our futures are inextricably linked. Let's work hard to advance the struggle for communism here too! Let's promote a class struggle fight for jobs for all workers! Let's fight to unite the working class masses right around the world by uncompromisingly standing against both racism and economic nationalism! You'd have to be blind now not to see capitalist democracy for what it really is – a filthy, rich man's game. But the riches of the world have always really belonged to the working many and not to the exploiting few. The exploiters can choke on the racism, hatred and division they sow. The fruit of our labour is of a different sort altogether. Already the workers of the world have begun to unite in order to form a community of kindness which can embrace all of our common humanity without exception. From each according to their ability, to each according to their needs. Friends, the time to mobilise and to strike back is now.