Justice for David Dungay! Justice for Elijah! Justice for Tane!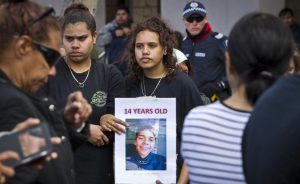 10 October 2017 – Aboriginal people and other anti-racists have staged angry protests throughout the country after the killer of 14 year-old Aboriginal youth, Elijah Doughty, was given an extremely light sentence. The child killer is a 56 year-old white man who the courts have suppressed the identity of. He committed the crime on 29 August last year while driving in his 4WD ute in the WA town of Kalgoorlie-Boulder. The killer chased Elijah, who was riding a small motorbike, down a dirt track. The murderer then ran over Elijah. He rammed into Elijah's motorbike after having revved up to a speed so much faster than the motorbike that he smashed it into three main pieces and countless smaller fragments while Elijah's skull was split in two and his spinal cord severed at the base of his brain.
For this heinous crime, the killer was given just a three years sentence. If he is granted parole, which media have reported seems likely, he will be released as soon as next January. This sentence handed down on July 21 by chief judge of the WA supreme court, Wayne Martin, was barely a slap on the wrist for a matter involving the killing of a child. The very light sentence provoked angry protests by Aboriginal people and other anti-racists throughout the country. In Kalgoorlie, where people had gathered to watch a video link to the Perth court proceedings, the verdict and sentence caused terrible grief to Elijah's family and friends. Hundreds of people then defied the threatening presence of dozens of heavily armed police to march through the streets of Kalgoorlie chanting "Justice for Elijah!" In Sydney, a spirited rally three days later culminated in protesters smearing red ochre on the windows of the NSW Supreme Court building to symbolise the blood on the hands of Australia's "justice system". Aboriginal activists throughout the country pointedly asked, "What if the murdered child had been a white-skinned boy and the killer an Aboriginal man?"
Australia's Racist, Rich-Peoples Legal System Once Again Denies Justice to Aboriginal People
The killer claimed that Elijah had been riding one of two motorbikes stolen from his shed. As if that excused him murdering a 14 year-old child! Furthermore, even if one believes that Elijah was riding one of the stolen bikes – which is unproven – there is no evidence at all that Elijah knew the bike was stolen and still less that he had stolen the bike himself. Many of these small bikes, including stolen ones, are dumped in the bush area where Elijah had been riding them. Moreover, the only reason that Elijah needed to ride a bike other than his own is because racist police had wrongly confiscated his own two bikes weeks earlier. With their typical racist stereotyping, police had wrongly assumed that Elijah's bikes, which had been bought off his grandfather, were also stolen. Police finally returned Elijah's bikes to his family after his death!
In other words, if police had not racially-profiled Elijah, i.e. if they had not been so racist, he would still be alive today. That was the first of several major injustices from the "justice" system that Elijah, his family and friends copped. Secondly, even though evidence pointed to the killer having deliberately rammed his ute into Elijah's small bike – with forensics showing the killer traveling over 20 km/h faster than Elijah – the police only charged him with manslaughter rather than murder. Then when hundreds of Aboriginal people responded to this blatant state racism by courageously marching on the Kalgoorlie courthouse and carrying out staunch acts of defiance against symbols of the racist authorities – including police cars, the courthouse entrance and the heavily armed police who were confronting them – police brutally unleashed their batons against the Aboriginal marchers and arrested several protesters. Outrageously, one of the Aboriginal people arrested in this anti-racist resistance has copped a sentence that could see him end up remaining in jail after the killer gets released!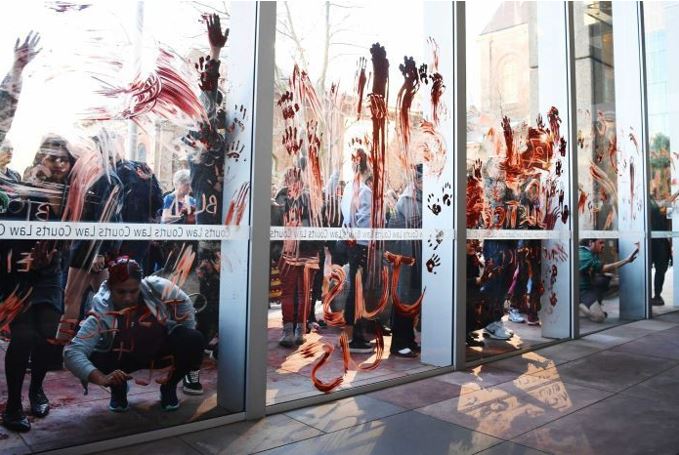 Then there was the verdict in the killers' trial in Perth. The killer was acquitted of even the reduced charge of manslaughter. Instead, he was convicted of the lesser charge of dangerous driving causing death. Even within the spectrum of the lesser conviction, the sentence that the judge handed out to the killer was light given the circumstances. Here is what the judge, Wayne Martin, argued:
"Martin said while the consequences of the driver's conduct were severe, his culpability was `in the lower half of what I might call the range of seriousness in the scale applicable to these things".
So according to Australia's legal system, running over a child when chasing him with a 4WD ute accelerated to travel over 20 km/h faster than the child's motorbike is "in the lower half of seriousness" … provided that the child is Aboriginal! The outcome of the trial has left most Aboriginal people, as well as any other decent, anti-racist person who followed the case, completely sickened. However, this injustice did not come out of the blue. It was par for the course for a thoroughly racist injustice system that has very often devalued the lives of Aboriginal children and Aboriginal people more broadly. Let us recall a similar case: the murder of 15-year-old Aboriginal youth, Errol Wyles, in Townsville in 2003. The child was killed after the white male, Scott Hasenkamp, revved up his car and reversed over the Aboriginal child who was riding a bicycle on two separate occasions before speeding off. Hasenkamp was a known white supremacist skinhead who once shouted from his car at Errol Wyles, "We're going to kill all you n****rs, Errol." Outrageously, police did not charge Hasenkamp with murder. Instead, they granted him the charge of dangerous driving causing death – the very same charge that Elijah's killer was slapped on the wrist with. The courts sentenced Errol's white supremacist murderer to just a 15 month sentence, of which he actually only served two months in prison (the rest on a farm)! Now, chillingly, this filthy, racist murderer could well be wandering the streets somewhere free!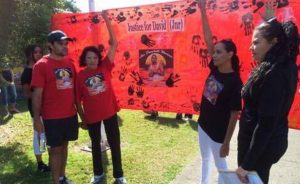 The most frequent perpetrators of the killing of Aboriginal people are the actual state authorities. In a killing similar to that of Elijah's, in February 2004 police driving in vans chased a 17 year-old Aboriginal youth riding his bicycle, TJ Hickey, through the streets of the Sydney inner-city suburb of Redfern. Police then rammed the boy's bicycle causing him to fly onto a fence where he was impaled. Police then violated standard emergency procedure by ripping the child from the fence causing him to bleed to death. However, the coroner completely exonerated the police, even claiming that the police were not even chasing TJ! Instead, he recommended that one of the cops involved in the murder be given a bravery award! This outrage is part of a long line of Aboriginal people being killed by police or prison guards. And in not one instance has a state official ever been convicted over one of these killings. In many cases like those of the deaths of TJ, Eddie Murray, John Pat, Daniel Yock and Mulrunji the police or prison guards outright murdered their Aboriginal victims. In other cases, like that of 22 year-old Ms Dhu and 28 year-old Kwementyaye (Terrance) Briscoe, police killed their victims through a combination of criminal neglect and violence.
Two recent cases where state enforcement authorities have killed young Aboriginal people include the deaths of 26 year-old David Dungay and 22 year-old Tane Chatfield. David Dungay was killed by guards at Sydney's Long Bay jail on 28 December 2015. The guards violently wrestled him to the ground and held him face down on a mattress on the pretext that Dungay – a diabetic – was eating a biscuit! Dungay repeated yelled out that he couldn't breathe but guards continued to brutalise him and then prison staff injected Dungay with a strong sedative without even assessing his vital signs or checking his airwaves. Shortly afterwards, Dungay turned purple and stopped breathing completely. As David Dungay's mother, Leetona, described it: "Straight out murder. They murdered my son…".
Gumbaynggirr and Gamilaraay man, Tane Chatfield was found hanging in his cell at Tamworth Correctional Centre two weeks ago and died two days later. His case is more than suspicious. Indeed, the fact that NSW Corrective Services had declared the death a suicide with "no suspicious circumstances" just hours after Tane died makes the case all the more suspicious. What is most telling about Tane's death is that he was photographed in hospital with extensive injuries that have little to do with hanging but a lot to do with being bashed. These injuries include a gash in his lips, lumps in his head and under his ears, bruising on his nose and lips and bruising on his shoulders and legs. Furthermore, another inmate heard him scream out as he was being attacked shortly before he was found unresponsive in his cell. Highly suspiciously, that morning every other inmate was let out into the yard except Tane, who was kept alone in his cell. Moreover, as his family have pointed out, Tane was in good spirits and showed no indication of wanting to kill himself. After spending two years locked up in remand, Tane was confident of being released in two weeks when his trial on an armed robbery charge concluded and in which he was expected to be acquitted. All indications are that Tane was murdered by state enforcement authorities and that this was then passed off as suicide by hanging – as in the infamous killing of 21 year-old Gamilaraay man, Eddie Murray, who was murdered in a police cell in the Northern NSW town of Wee Waa in 1981. Tane was just a year older than Eddie was when he was murdered. Twenty six years after Eddie Murray's killing nothing has changed. Indeed as the redneck murder of Elijah and the recent state killings of Tane Chatfield, David Dungay, Rebecca Maher, Ms Dhu and so many other people show, racist terror against Aboriginal people is actually intensifying.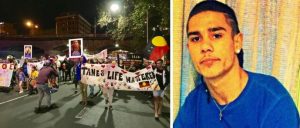 Australia's post-1788 state machinery – from the police, to the prisons, to the courts, commissions and military – was, indeed, founded not only to enforce the exploitation of the labouring classes by the rich propertied, capitalist class. The brutal Australian state machine was, of course, also set up for the express purpose of dispossessing Aboriginal people from the land that they belonged to, to turn them into a super-exploited labour force (initially toiling in the agricultural industry and as domestic servants and later, today, often in unpaid work for the dole or other mutual obligation slave labour-like schemes) as well as to repress the resistance of Aboriginal people to their many-sided subjugation. Since the Australian capitalist state's inception, this targeting of this country's first peoples and all the foul "traditions" and "culture" associated with their continuing oppression have been passed down to every succeeding generation of state officials. This is further reinforced by every act of racist and anti-working class repression that the state machinery unleashes. And every time that Australia's racist, rich people's "justice system" allows someone to get away with killing a black person it gives ultra-racists – both state personnel and rednecks like the murderers of Elijah and Errol Wyles – a green light for yet more terror.
A Racist, Lynch Mob-Incited Murder
The murder of Elijah was not simply the question of an individual heartless man who in a fit of rage over his stolen little motorbikes makes a sudden decision to run over a child riding a small motorbike. Rather, it was a killing that directed all the racist ferment happening in the town into a particular despicable crime. Kalgoorlie-Boulder has long been an especially racist town, in the particularly racist state of WA in the especially racist country that is called Australia. In the whole of WA, Aboriginal children are 53 times more likely to be imprisoned than their non-Aboriginal counterparts!
As with racist hostility to other mainly non-white communities in Australia – like Muslims, East Asians, Africans and South Asians– the main "justifications" given for redneck hatred for Aboriginal people change with time almost like the whims of fashion. The latest fashion in white supremacist hostility to Aboriginal people in the Kalgoorlie-Boulder area is anger at petty thefts – including of motorbikes – allegedly committed by Aboriginal youth. This is despite statistics over the 18 months leading up to Elijah's killing showing no increase in the rate of such crimes (WA Today, 31 August 2016). In the lead up to the murder of Elijah, two local community Facebook groups, "Kalgoorlie Crimes Whinge and Whine" and "Name Shame Crimes Kalgoorlie" were not only infused with extreme racist bigotry towards Aboriginal people but included calls for violence. The month before Elijah was killed, a contributor to one of the community pages wrote, referring to the gunning down of black people on the streets of America by racist cops: "What about we get some white cops from America …. lol …. Not really funny but might work." He also wrote: "Things will never change unless there is annual cull." There was no way that the killer was not influenced by – or perhaps a contributor to – this violent racist agitation. He was certainly aware of it. Indeed, the very day before he killed Elijah, his wife actually posted about their missing bikes on one of these two racist-infested Kalgoorlie crime Facebook pages.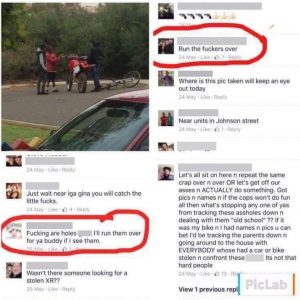 Calls from extreme racists within Kalgoorlie for the outright murder of Aboriginal people intensified in the days leading up to Elijah's killing. A week before his murder, after a woman posted a claim that two Aboriginal youths had broken into a ute, a man replied, "Feel free to run the oxygen thieves off the road if you see them", while another man wrote, "Everyone talks about hunting down these sub human mutts, but no one ever does." Then, as racists on the social media pages continued to use derogatory terms to refer to Aboriginal people – such as "darkies" and "non-reflectives" – one user wrote: "How many human bodies would it take to fill the mineshafts around Kalgoorlie? A: We're one theft closer to finding out!". This threat of, practically, a genocidal assault upon the local Aboriginal population was made just two days before Elijah was murdered! It is absolutely undoubted that all this extreme racist bigotry fuelled the actions of the killer. Just as a laser concentrates seemingly harmless light of different phases into a single sharp output that can then cut like a knife, the violent outpouring of hatred from racist rednecks was channelled into the ghastly act of the killer when he rammed his 4WD ute into the child.
For Action by the Workers Movement, Aboriginal People & All Anti-Racists to Resist Racist Terror!
The murder of Elijah and his killer's escape from justice cannot be separated from the increasingly racist political climate that is lurking over all capitalist countries. This is signaled by the growth of violent, far-right groups in Australia and the rise of hard right, extreme racist Donald Trump to the U.S. presidency. Just three weeks after Elijah's killer got away with a very light sentence, large numbers of neo-Nazis and other white supremacists held a terrifying march through Charlottesville, United States, which culminated in one of the fascists murdering Heather Heyer by ramming his car into her and other anti-racist counter-protesters. Yet as terrible as the situation is in the U.S. we should point out that there is a difference in what happened to the murderer of Heather Heyer and what happened to the murderer of Elijah Doughty. In the U.S., the neo-Nazi who murdered Heather Heyer was at least charged with murder whereas the redneck who killed Elijah was only charged with manslaughter and ended up being acquitted on that charge as well. As racist as things are in the U.S. they are even worse here!
Although Aboriginal people cop by far the worst of racist terror in this country – especially from state authorities – all people of colour can be targets of racist violence. A recent study found 243 reported and confirmed violent or threatening attacks on Muslim people in Australia in just a 15 month period – and this is just the tip of the iceberg. The majority of attacks were on women. Meanwhile, just two months after Elijah was murdered, Indian-born Brisbane bus driver Manmeet Alisher was murdered by a white terrorist who boarded the bus and heinously set the driver alight in what was manifestly a racist attack. The murderer, Anthony O'Donohue, was known to hold fascist views – including conspiracy theories against trade unions. And then a month after Elijah's killer was acquitted with manslaughter, a white student at Canberra's ANU university pulled out a baseball bat during his lecture and started attacking other students. Indications are that he specifically targeted Asian students and indeed all the people he hospitalised with injuries were Chinese students. The attack was only stopped when brave international students from China tackled the attacker to the ground. Mainstream Australian media are notorious for covering up the racist nature of racially motivated crimes. However, even they have admitted that ANU student newspaper Woroni had reported that the man "appeared to attack students of Asian appearance" and that other students had reported that word around campus was that "it was Asian girls that were targeted" (The Daily Telegraph, 25 August 2017). The previous month, a neo-Nazi paramilitary group called Antipodean Resistance had posted up, fake-official, "No Chinese Allowed" posters (written in poor Chinese) at Melbourne universities at the start of the new semester.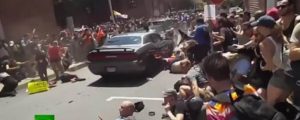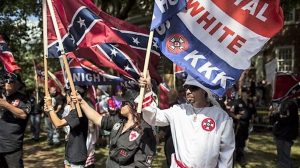 The bitter reality is that capitalist rule in Australia has created a very racist society. As in all capitalist countries, the ruling big business-owning class – and the state that serves them – consciously promotes racism and nationalism in order to divide the working class people that they exploit and to divert the downtrodden masses from rebelling against them. Furthermore, in the particular case of Australia, the mining and big agricultural bosses who make up a significant part of the ruling class know that their tremendous wealth comes from the dispossession of Aboriginal people from their land. Thus, they do everything to both perpetuate this injustice and to spread the racist stereotypes that "justify" it. Moreover, the white supremacist sentiments that permeate Australian society are also the ideological reflection of Australian- owned multinational corporations super exploiting labour, plundering natural resources and seizing control of markets in neighbouring predominantly non- white countries like PNG, East Timor, Indonesia, Fiji, the Solomon Islands and the Philippines. Meanwhile, the fact that these darker-skinned peoples subjugated by Australian imperialism have a lower standard of living than Australian workers makes narrow-minded, bought-off elements within the Australian working class spread the false view that Australian masses should be protected from having their relatively privileged position being diluted into that of the neighbouring peoples by xenophobic policies.
As a result, racism creeps so deeply into every pore of this society that there are hundreds of thousands of garden-variety rednecks in this country – if not more – who on a bad day, given the right excuse to feel aggrieved, could commit the kind of crime that Elijah's killer did. That, certainly, makes such violence hard but, nevertheless, far from impossible to curb! One thing that needs to be done is that every time that far-right racists hold a public event, mass united action of trade unionists, Aboriginal people, other people of colour and all anti-racists must stop them. A taste of the type of action needed was seen in Brisbane on 2 May 2014 when a large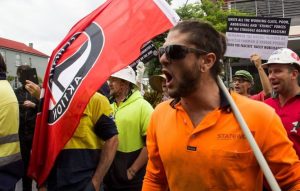 contingent of unionised construction workers joined together with anarchists, Trotskyist Platform supporters and other leftists to shut down an attempted march by the fascist Australia First Party and the Australian chapter of the Greek neo-Nazi, Golden Dawn group. Such mobilisations can intimidate racists into realising that turning their bigoted views into action can bring them negative consequences. If there had been powerful actions to drive white supremacists off the streets it may have given the racist skinhead who murdered Errol Wyles some pause. And while the murderer of Elijah may have not himself been a member of a far right racist group, if he had seen and heard reports of extreme racists being trounced throughout the country it may have made him doubt that he could get away with running over an Aboriginal child. It could also have made some of the hardcore racists egging on such crimes on Facebook pull their heads in.
Secondly, every time that an Aboriginal person is killed by violent rednecks, cops or prison guards there needs to be determined protest action to demand justice. It is the fact that cops and prison guards have, on every occasion, gotten away with killing an Aboriginal person that gives encouragement to the violent racist proclivities of the likes of Elijah's killer. This makes the movement against black deaths in custody – or rather against murder in custody – all the more important. To give this movement the strength that it deserves, the trade union movement must mobilise its power behind it. It was a good thing that there were some members of the Maritime Union of Australia, carrying union flags, at the Sydney protest over the sentence of Elijah's killer. This union support must be broadened and deepened so that it can be turned into protest industrial action against murders in custody of Aboriginal people. When the corporate bosses who run this country have their fabulous profits threatened by workers' strike action they – and their servants in parliament – will finally start to rein in their thugs in blue.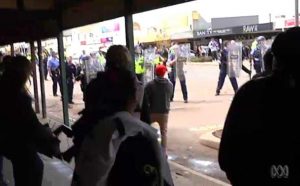 Such action by the workers movement in defence of Aboriginal people is possible because although most people in this country have a relatively privileged position with respect to most Aboriginal people, this capitalist social order and the state that enforces it is bad for all working class people. It brings unemployment, insecure jobs, a dire shortage of affordable housing, inadequate infrastructure, a growing gap between rich and poor and education and health care that is becoming increasingly user pays. Today, the same state that murderously oppresses Aboriginal people also attacks the picket lines of striking workers, hounds trade union activists in the construction industry and represses campaigners in support of public housing and other progressive causes. Moreover, the system threatens to, in the future, again plunge humanity into a catastrophic world war. It is, thus, in the very interests of the workers movement to stand shoulder to shoulder with Aboriginal people against the injustices of the racist, rich people's state. Moreover, when the workers movement takes a strong stand against racist atrocities it will help to expel racist sentiments from within its own ranks, which is absolutely essential to building the unity needed to mobilise powerful struggles against the capitalist exploiters.
Thirdly, the racist policies by Australian federal and state governments must be opposed. This means we must oppose the right-wing Turnbull government's expansion of the patronising "Cashless Welfare" schemes. These measures, whose spread is being driven by greedy billionaire Andrew Forrest, not only attacks all the poor but disproportionately targets areas with high proportions of Aboriginal people and other economically disadvantaged people of colour. We must also fight against other forced "income management" schemes and against the anti-Aboriginal NT intervention. Both of these were started by the Howard Liberal government and then continued and even extended under the rule of the former ALP – and ALP/Greens de-facto coalition – governments. Like the bipartisan policy of imprisoning and deporting refugees, these racist policies incite the sentiments that fuel acts of racist terror – like the murder of Elijah.
That yet more black people are being murdered in custody and that the killer of a 14 year-old Aboriginal child could get away with a sentence so light shows that the situation in this country is indeed desperate for those on the receiving end of racial oppression. Furthermore, the growing racist violence against oppressed first peoples and ethnic and religious minorities in all capitalist countries from Australia, to the U.S., to Germany, Hungary, Russia and Ukraine – and including in ex-colonial capitalist countries like India, Bangladesh, Indonesia and Myanmar – points to a future even grimmer than today's. It points to a future where capitalism descends into its most twisted, cruel and violent form: Nazi-style fascism. That is why we must resist now before humanity is plunged into unspeakable calamities. If the working class and all downtrodden mobilise in mass actions to stop white supremacist groups, oppose racist state murders in custody and stand against discriminatory laws, we will be building up our muscles for a decisive onslaught against the racist capitalist order itself. When we do smash this dog eat dog system and replace it with a socialist system based on shared ownership of the means of production we will be able to bring out the best in humanity and finally consign the horrific products of capitalist rule, like racism, poverty and sexism, to the dustbin of history where they belong.