Australian Rulers' Union Busting Drive against the CFMEU Union Threatens Construction Workers' Lives
22 November 2016: Remember the days when hardly a fortnight would go by without the Australian media reporting a major work accident in China that killed dozens of workers? To be sure, China is the world's most populous country – with about 60 times the population of Australia – so everything both bad and good necessarily happens on a huge scale. Furthermore, the mainstream Western media have always been looking for any means to paint a bad picture of the socialistic Peoples Republic of China (PRC). Nevertheless, it is true that China did have poor workplace safety. The country is industrialising and developing so fast that there was a period when the technological level and safety systems simply did not keep up – leading to dangerous workplace environments. Furthermore, the late 1980s, 1990s and first couple of years of this century was a period when China's private sector expanded in influence relative to the state-owned sector which, nevertheless, to this day still dominates the pillars of the PRC's economy. But it is in the private sector where workplace safety is at its worst including in the foreign-invested industries owned by Hong Kong, Taiwanese, American, Singaporean, Japanese and Australian bosses.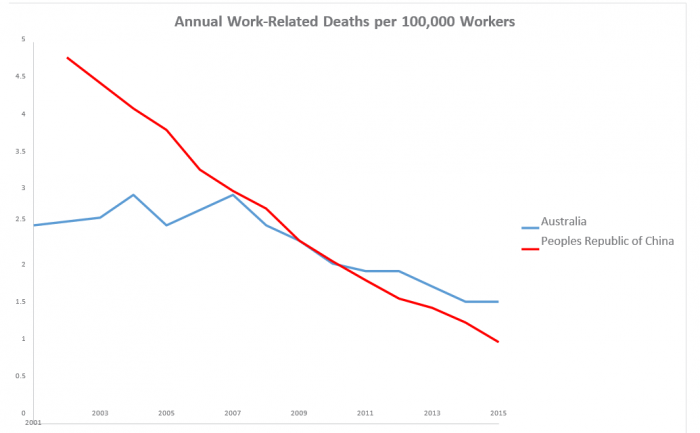 Thankfully, all this is becoming in significant part old news. Through a combination of nationalisation of formerly privately owned mines, the closure of smaller, unsafe private-sector mines, a 2008 pro-worker industrial relations law, increased government emphasis on workplace safety and spirited repression of greedy bosses responsible for workplace accidents, the Peoples Republic of China has dramatically reduced deaths from workplace accidents over the last 15 years. China's workplace safety issue is still serious and, as a gigantic country with often large-size operations, when China does have work accidents they are often on a huge scale. Yet, the PRC's achievements in improving workplace safety are so dramatic and the failure of greedy Aussie bosses to provide a safe workplace here so harmful that it is now safer to be a worker in China than it is to be one in Australia.
So what are the hard facts on this comparison of workplace safety in Australia and the PRC. There are some complications in comparing statistics because each country lists workplace deaths in different ways. In particular, in China, a death in a traffic accident has long been listed as a 'workplace death.' The inclusion of traffic accidents Continue reading Workplace Safety Now Better in China than in Australia →