Above: 3 November 2017 – Delegates to an Australian Services Union delegates conference in WA proudly show their support for the embattled Manus refugees. The growing number of statements of solidarity for refugees from sections of the union movement needs to be turned into protest industrial action. [Photo credit: WA from Unionists for Refugees – WA Facebook page]
Turn Our Union Movement's Stated Solidarity with Manus Refugees Into Industrial Action That Can Force the Australian Government to: Free The Refugees & Bring Them Here Now!
Enough is enough. End their suffering. Evacuate these men now.
These men are people like us. They deserve to be working people. They are engineers, journalists, artists and former United Nations workers. They are fathers, brothers, uncles and sons.
We have taken their dreams of a better life, and replaced them with an unrelenting nightmare.

ACTU Statement, 10 November 2017
18 November 2017: Refugees on Manus Island are in a desperate struggle. After Australian governments and their henchmen in PNG imprisoned them for years in the island's hellhole detention camp, Australian and PNG authorities now want them to move to yet another prison in a location where they will be even more unsafe. The refugees have good reason to be fearful. Just seven months ago, navy personnel living on the island attacked them with rocks and knives. The navy staff reportedly even unleashed gunfire against the centre.
So it is completely understandable that some four hundred of the refugees have refused to re-locate. They don't want to be attacked or even killed. They don't want another prison! They just want to be free to live like human beings should. The refugees are courageously resisting even after police cut food, water and electricity to the camp. Five days ago, the Australian-puppet PNG authorities once again entered the camp to destroy the water wells and bins that they had used to collect water to drink. These human beings are being starved and forced to live in filthy conditions. They are being tortured!
The Liberal and ALP politicians' racist savagery against refugees and their fear-mongering against Muslims is emboldening extreme race-hate groups within Australia. A week ago, one such outfit threateningly ambushed Labor senator, Sam Dastyari. The bigots branded Iranian-born Dastyari a "monkey" and a "terrorist" as he sat down for a quiet pub meal. If this is what happens to a well-connected mainstream politician because he doesn't happen to be white enough for the racist white supremacists, consider the threats that other people of colour face – whether from conscious fascists or from garden variety rednecks. Just two weeks ago, three Chinese high school students were bashed at a bus stop in South Canberra. This was part of a series of racist attacks in the area on the Chinese community.
The fact is that in the capitalist world, fascism is on the rise. Not only did a hard right racist become U.S. president and not only have far-right parties made big electoral gains in Austria, France and Germany but in all these countries as well as in the likes of Sweden, Greece, Ukraine and Russia fascist thugs are terrorising migrants. Far right forces are being emboldened because the more that capitalist rulers prevent working class people from having secure jobs and the more that they slash social services the more they have to scapegoat minority communities for the suffering caused by their own capitalist system of exploitation. Meanwhile the economic insecurity that this so-called system creates is pushing the most backward sections of the middle class into seeking salvation in extreme nationalism. If we do not resist, there is a danger that large parts of the world could end up being ravaged by the horror of Hitler-style fascism. The viciousness of the Australian regime's treatment of refugees and the concomitant escalation in racist terror on the streets should both serve as warning signs!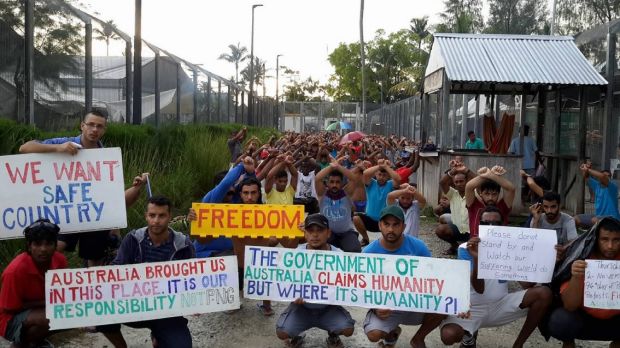 Many people have, indeed, been fighting against the Liberal government's abuse of Manus refugees. People have held spirited protests and there have been brief occupations of immigration department offices. Some activists have staged audacious media stunts like climbing a crane to hoist the banner "SOS: Evacuate Manus Now!" over Flemington racecourse on Melbourne Cup day. Last Friday, hundreds of us rightly gave a good serve to participants at a Sydney fundraiser for Tony Abbott which also acted as a speaking appointment for the much hated immigration minister, Peter Dutton.
However, what the refugee rights movement is up against was seen by the response of the ruling class to Friday's protest. Firstly, police aggressively manhandled protesters. Even after we marched off far from the site of the right-wing fundraiser, riot police continued to assault demonstrators. They arrested four protesters – one of whom was charged. Today, another activist was charged, this time over the incident when Abbott's sister and fellow Liberal party hack, Christine Forster, ran into spirited opposition when she entered Friday's fundraiser. Meanwhile, mainstream media hysterically condemned the protests and greatly hyped up the trouble that the whingeing sook, Forster, ran into. And it was not just the conservative Murdoch media that was on the charge here. The "liberal" Fairfax media and the ABC joined in too. And the condemnation of our protests from politicians was not restricted to Abbott and his hard line mate, Dutton. Opposition frontbencher, Anthony Albanese, a member of Labor's so-called "Left" faction, accused us of "intimidation." This highlights the fact that this is a bi-partisan war on refugees. Indeed, behind the cruel torture of refugees stands the overwhelming majority of the capitalist ruling class as well as their henchmen – from their physical enforcers in the police force to the judges and magistrates providing legal cover for their crimes to their media propagandists and their political servants on both sides of parliament.
Against this overwhelming physical, political, judicial, media and financial power that the bosses wield we need our own power. Actually, we already have it! For our power lies in the organised workers movement and its ability to unleash industrial action to hurt the profits of the rich capitalist businessmen for whose interests the whole state machine has been set up over many years. It is possible to mobilise the working class in defence of refugees because it is in the very interests of the working class to oppose racism since such racism is poison to the workers unity essential to building any campaign for workers rights. Importantly, five days ago, the Australian Council of Trade Unions released a statement calling on "the Australian Government to immediately evacuate people seeking asylum on Manus Island, to end the appalling humanitarian crisis." This statement now needs to be backed up by industrial action. The workers movement and all its allies must fight to demand that all the Manus and, indeed, Nauru-based refugees be brought here to Australia with the full rights of citizens. Freedom for all people imprisoned in Australia's hell-hole detention centres from Manus to Nauru to Villawood to Christmas Island! Full rights of citizenship for all refugees, migrants, guest workers and students! Drop the charges against all pro-refugee protesters!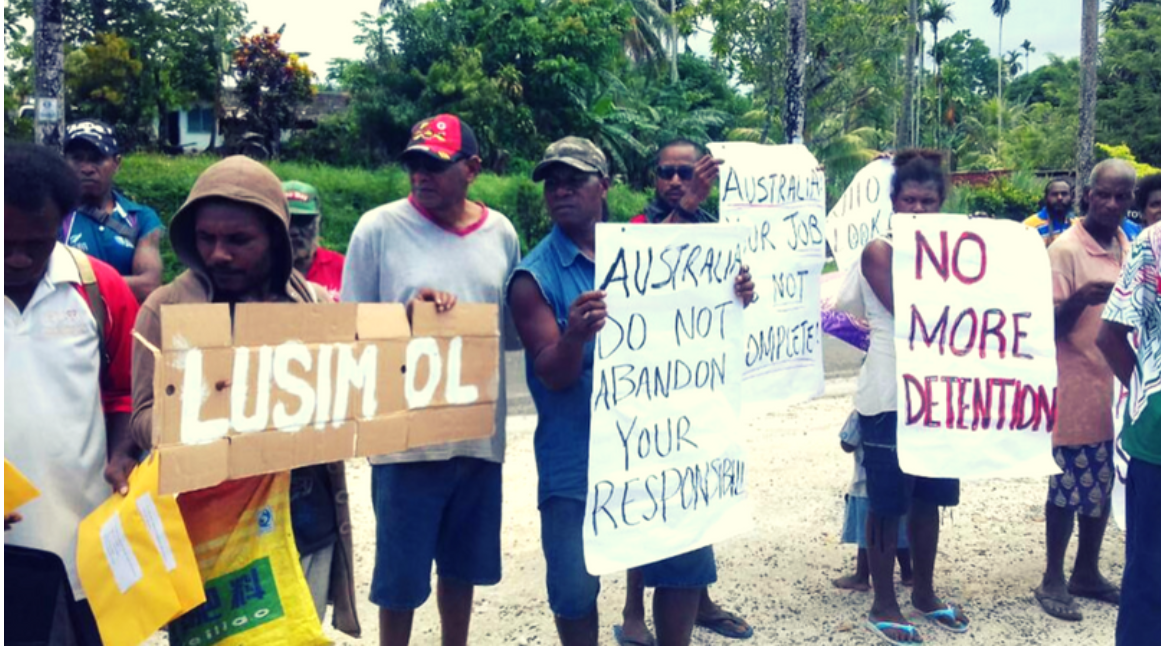 PNG and Australian Imperialism
The persecution of Manus refugees highlights just how much PNG is under the control of the Australian ruling class. For decades, PNG was an Australian colony. Australia's rulers treated the PNG masses with the same racist arrogance that they continue to subject Aboriginal people to. After PNG gained independence in 1975, Australian-owned companies continued to loot her mineral wealth without paying much royalty to local people. Today, up to 500 people in the PNG capital are sleeping rough after two Australian-owned developers threw out 2,000 people living in the waterfront Paga Hill shantytown with no resettlement. With the PNG people so badly impoverished by Australian imperialist exploitation, some PNG locals have become resentful of those who, like refugees, are mistakenly seen as competing for scarce goods.
In a classic neo-colonial arrangement, Australian judges, bureaucrats and "advisers" have continued to impregnate PNG's state organs after the so-called "independence" of PNG was officially declared in 1975. Thus, PNG's Supreme Court – the same court that last week knocked back an application to restore basic services to the Manus camp – has not one but three Australian judges on its panel! As for the PNG police force, it is advised – i.e. directed – by a contingent of over 70 Australian Federal Police officers stationed directly in PNG. Through a combination of the pressure of these Australian bureaucrats and police officers, through bribery of PNG officials by Australian businessmen and through the economic threats of all-powerful Australian corporations, the capitalist elites living in places like Point Piper, Mosman, Toorak, Vaucluse and Hunters Hill are able to ensure that the PNG state machine serves their interests. In June last year, PNG police opened fire on students protesting against the corrupt, Australian-backed prime minister, Peter O'Neill. Reports indicate that at least four students were shot dead. Earlier from 1989, the PNG military, acting in the interests of Australian-owned miner CRA (which later merged with British RTZ to form Rio Tinto), brutally attacked a brave rebellion by people on the island of Bougainville. The Bougainville people rose up against CRA's refusal to grant proper compensation – and its arrogant destruction of the surrounding land – from its hugely profitable Panguna copper mine. But, backed up by Australian arms, military advisers and Australian pilots strafing the Bougainville people from helicopter gunships, the PNG military and its Australian godfathers killed over 15,000 Bougainville people through either gunfire or the starvation and lack of medicine that resulted from the blockade that they imposed on the island's people. Today these same forces are doing a mini-version of that blockade against the Manus refugees – and if they are not stopped the same tragic consequences will ensue!
Meanwhile, Australian governments have pressured PNG authorities to not only privatise PNG public services but even its land held by kinship groups too. This has, obviously, led to greater inequality and a replacement of the local people's pre-colonial, community-minded outlook with the ruthless rivalries of unrestrained dog eat dog capitalism. Nevertheless, contrary to the Australian media's attempt to brand all the Manus people as violent attackers of refugees – even as the media, itself, unsympathetically reports on the refugees' plight – some on the island have been bravely defying the police and trying to pass food through to the refugees in the camp. Furthermore, over three hundred people on the island, organised by Manus Alliance Against Human Rights Abuse, have signed a petition asking for all the asylum seekers to be returned to Australia. Moreover, although in remote and navy-dominated Manus many people do imbibe the Australian government's hostility to refugees, in urban parts of PNG – especially in the capital with its working class concentration – there have been many instances of brave resistance against the Australian-dictated social order. In 2001, PNG students along with others held mass protests and occupations against privatisation of state assets. Bearing slogans against the Australian government, the IMF and the World Bank that had dictated the privatisation program, they eventually forced the PNG government to back down. This heroic struggle came at great cost – PNG police shot dead four of the anti-privatisation protesters in June 2001.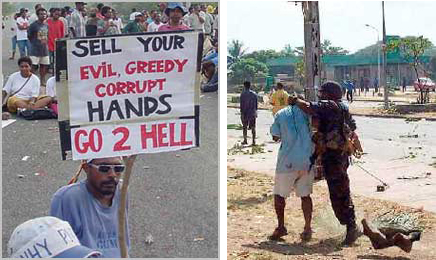 Typical Racist Brutality of the Australian Regime
The horror of what Australia's rulers are doing to the Manus refugees has driven new layers of well-meaning people into the refugee rights movement. Some of them and others involved in the campaign for a long time have held slogans about the Manus issue like, "This is Un-Australian." Such sentiments are encouraged by the speeches of Greens politicians at refugee rights rallies who often state that "Australia's treatment of refugees puts a stain on our proud human rights record." However, the truth is that the Australian government's persecution of refugees is all too typical of the "human rights record" of this ruling class. Indeed, the way they are grinding down refugees at the Manus camp right now actually draws attention to the way they have subjected Aboriginal children in the NT and other Australian youth detention centres to unsanitary conditions as well as torture. The death last Christmas Eve of 27 year-old Manus refugee from Sudan, Faysal Ishak Ahmed, after authorities denied him proper medical treatment for his heart and breathing problems has eerie similarities to the August 2014 death of imprisoned 22 year-old Aboriginal woman, Julieka Dhu, who died of a severe bacterial infection after racist WA police murderously refused her medical treatment. And the way that Manus guards and cops bashed to death Kurdish asylum seeker, Reza Berati, in 2014, recalls the brutal bashing to death in Palm Island ten years earlier of the Aboriginal man, Mulrunji Doomadgee, by a racist Queensland cop. Indeed, capitalist rule in this country was founded on the genocidal dispossession of Aboriginal people. Nevertheless, Aboriginal people continue to resist racist state violence, famously during the Redfern resistance actions and Palm Island uprising, both in 2004. The latter brought to prominence the great Aboriginal hero from Palm Island, Lex Wotton. But the killings in and out of state custody of John Pat, Eddie Murray, TJ Hickey, Julieka Dhu, Wayne "Fella" Morrison, David Dungay, Tane Chatfield and hundreds of other people show that Aboriginal people continue to be murdered by racist Australian police and prison guards to this very day.
So the cruel mandatory detention of refugees does not come out of the blue. Indeed, it is an extension of the Australian White Australia Policy that lasted officially up to the mid-1970s. That policy effectively barred most non-white people from entering the country. Even the impunity that detention centre guards have for extreme acts of brutality against refugees is rooted in Australia's past and present. We only have to note that not a single Australian prison guard or cop has ever been convicted over the death of an Aboriginal person in custody. Or to point to the way that the racist redneck who chased down and ran over 14 year-old Aboriginal youth, Elijah Doughty, in Kalgoorlie was only given a very light sentence for his deadly actions. Meanwhile, the spin of the Australian authorities and media over their atrocities on Manus is all too typical as well. It is like the way they black out the voice of Aboriginal people speaking out against murders of their family and friends in custody or the way they tried to cover up the racist character of the wave of violent attacks on Indian students in Australia in 2009.
The fact is that the filthy rich businessmen who run this country – and their henchmen in the state machine – will do whatever it takes to strengthen their rule and boost their profits. Today, as homelessness is on the rise, Australian governments drive more people into poverty by selling off low-rent public housing. They are also persecuting trade union activists in the construction industry. Indeed, their cruel repression of refugees is an indication of what they will seek to impose on the exploited working class should we mount a serious challenge to their rule. This is no joke, comrades.
Identifying the cruel oppression of refugees as one of the aspects of a profoundly unjust social order opens the door to a united front with Aboriginal people fighting against savage oppression, trade unions struggling against anti-union laws and cuts to working conditions, low income people suffering through the dire shortage of low-rent accommodation as well as ever more stringent restrictions on access to social welfare and the many communities in Australia who bear the full brunt of Islamophobia and other variants of the white supremacist, racist agenda.
The Burning Question:
What Strategy to Free the Refugees?
Over the last 25 years many people have sincerely put great effort into the struggle for refugee rights. But at this critical moment we must consider: is the movement basing itself on a strategy and program that can actually win? Well, certainly, the hard work of thousands of activists over the years has not gone to waste. As a result of all the protests for refugee rights many, many more people are aware of the issue and have become sympathetic to the plight of refugees. However, the movement has not been able to make Australian governments retreat from any of their cruel policies. When one considers how many hundreds of thousands if not millions of people in this country are sympathetic to the plight of refugees then one has to conclude that the strategy the refugee rights movement has pursued up till now has been a wrong one.
So what strategy has the movement been based on? It is true that people from diverse political backgrounds participating in the actions have different ideas about how best to achieve freedom for refugees. However, the prevailing strategy, which reflects the politics of the socialist group, Solidarity, that has control of the Refugee Action Coalition (RAC) is one that's based on the idea of change through parliament. So, the movement, even while criticising the ALP's refugee policies, campaigns for the ALP and Greens to be elected to parliament and seeks to pressure the ALP to reverse its anti-refugee policy. Thus, the formation of a future ALP government with a pro-refugee policy or an ALP-Greens coalition is put forward as a means to free the refugees.
The problem with this strategy, however, is that it has not worked. Indeed, it was the Rudd Labor government which in July 2013 brought in the current "PNG solution." Labor's Rudd made John Howard's racist refugee policy even more xenophobic by declaring that, "From now on, any asylum seeker who arrives in Australia by boat will have no chance of being settled in Australia as refugees." And let's not forget it was the Keating ALP government that in 1992 introduced the policy of mandatory detention of asylum seekers in the first place.
Unlike the ALP, the Greens have spoken out – sometimes strongly – against the Turnbull government's brutal war on refugees. However, in 2010 they jumped into a de facto coalition with the Gillard ALP government without demanding even the slightest commitment from that government to ease its war on refugees. During the period of the Greens-ALP alliance government from August 2010 to February 2013, not only did the Greens prop up a government that was maintaining mandatory detention of refugees but that government also significantly intensified its anti-refugee policy. In August 2012, the Gillard government announced that it would resume the detention of refugees in Manus and Nauru that had been paused during the first Rudd government. Even though the Greens opposed the move, they still remained part of the de facto coalition government! That's hardly a serious commitment to refugee rights!
The reason that all pro-capitalist parties are complicit in the oppression of refugees is that the vast majority of the capitalist bigwigs – whom all these current parliamentary parties ultimately serve – are committed to the war on refugees. To be sure, some in the capitalist class do worry that the brutality of their anti-refugee policies will damage the Australian state's reputation in the world and thus impede their ability to use the claim of standing for "human rights" to justify their predatory imperialist interventions abroad. However, a bigger section of the corporate tycoons calculate that they need the diversionary and divisive effect of a harsh policy against refugees. And from their ruthlessly greedy point of view they are probably right! Without their governments making the masses think that refugees and migrants are some kind of threat to their wellbeing, how else are they going to make working class people wear the fact that workers' real wages aren't rising and workers' penalty rates are being cut while the capitalists' own fat profits are ballooning ever higher? How else are the big shareholders and executives of the NAB bank going to stop their own workforce from revolting at the fact that they are throwing 6,000 of these workers out of their jobs even after making a spectacular $5.3 billion annual profit?
Given that the Greens do claim to stand for refugee rights it is not wrong per se for RAC to invite them to speak at their rallies. Nor, given that the pro-capitalist ALP does have a working class base (unlike the openly pro-boss Liberals), is it unacceptable to have speakers from Labor for Refugees in order to encourage pro-refugee individuals within the ALP to take a more outspoken stand. However, what is harmful is for the Solidarity group leadership of RAC to then promote future ALP or ALP-Greens "lesser evil" governments as a means of salvation for refugees.
The left-social democratic Solidarity group's parliamentarist strategy was especially evident during the federal elections last year when they openly handed out election material for the Greens and called to put the ALP second after the Greens. When pushing these parliamentary illusions, Solidarity are acting to dampen support for the truly militant actions that are needed to win refugee rights even while young Solidarity members, themselves, passionately promote and participate in staunch pro-refugee actions.
Of course, if the refugee rights movement could be re-directed into one that could start to threaten and harm the ruling class' interests – in particular, their profits – then a section of the capitalist class would be forced to consider backing down. Their more "left" and small-l liberal representatives would then start seriously working towards an overhaul of refugee policy. But this would not be change driven by these pro-capitalist parliamentary parties themselves but, rather, a case of the resistance of the masses forcing a section of the capitalists and the parties that serve them to retreat. That is a huge difference!
What a Working Class Orientation Really Means
To be able to threaten the interests of the ruling class means unleashing the industrial muscle of the union movement. Encouragingly, contingents of unionists from the Nurses and Midwives Association, the MUA, NTEU, Teachers Federation and other unions have taken part in pro-refugee actions. RAC does make efforts to lobby unions to participate in the movement. And the Solidarity group does state that a working class orientation is needed. However, a working class orientation requires more than just motivating unions to support the refugee rights campaign. It means setting the line of the movement itself to a pro-working class direction. In particular, it means making open appeals to workers' interests, not just in statements given out especially to unionists, but in the actual, official callouts for the entire action itself. That means, for example, featuring as headline slogans in the main action call outs, calls similar to, "Workers: Let's Build the Unity We Need to Stand Up to the Greedy Bosses – Oppose Racism by Standing with Refugees!" Openly appealing to workers' class interests in the action callouts is what could win broader layers of unionists to see the refugee struggle as their struggle. It is what will help more conscious union activists who are already involved in the movement to mobilise their co-workers to join in as well.
This could, of course, put off some liberal refugee rights supporters who may be anti-union or unwilling to align with an openly pro-working class movement – people like liberal small business bosses, mid-level managers and managerial level public service bureaucrats who may support the Greens. It is this prospect of a break with such small-l liberals that, no doubt, makes Solidarity – and the other groups prominent in directing RAC like Socialist Alternative and Socialist Alliance – baulk from setting the refugee rights movement on an openly pro-working class direction. But this choice must be made. One cannot effectively appeal to both the rival classes in this society. If one truly believes in a pro-working class orientation – and it is clear that it will take the mobilisation of the working class and its allies to repulse the war on refugees – one has to be prepared to break with pro-capitalist elements. We should add that given that there have been many militant pro-refugee actions over the last two weeks and given the depth of the media/politician witch hunt over the Christine Forster "incident," those left social democratic groups who have been so careful not to scare off small-l liberal elements may find these types quietly retreating from the movement anyhow or otherwise distancing themselves from militant protests.
Of course, whether the workers movement can be mobilised in defence of refugees depends on not only the direction of the refugee rights movement but on the internal politics of the union movement itself. Currently, the anti-refugee ALP politically dominates the union movement. That's why challenging this influence of the ALP is key to mobilising the workers movement in defence of refugees.
We need to purge from the union movement not only loyalty to the ALP but something that runs even deeper – support for Labor's outlook. Unfortunately, most workers currently back the ALP's economic nationalist agenda. ALP slogans like "Employ Australians First," by setting up local citizens as job market rivals of foreigners, inevitably creates resentment towards guest workers, refugees and international students. Indeed, protectionism runs so deep that much of the Far Left acquiesces to it even while trying to present it in a "clean" way devoid of open racism. The Socialist Alliance group, Socialist Alternative and the Communist Party of Australia all backed Australia's largest demonstration to keep out foreign workers: the July 2012 "Local Workers First" rally in Perth. Here we must, however, give credit where credit is due to the Solidarity group. Although, overall, of all the far-left groups, Solidarity panders most to the ALP and Greens, they do take a strong stand against economic nationalism.
Trotskyist Platform is on a campaign to oppose all forms of economic nationalism. We understand that as long as this nationalism remains dominant in the union movement, efforts to mobilise the working class masses in defence of refugees will be greatly undermined. We seek to prove to workers how economic nationalism in all its forms undermines the unity and focus we need to fight for workers rights.
We can only defeat economic nationalist slogans if we provide an alternative program for secure jobs for all workers. Such a program is one of militant class struggle to prevent capitalist bosses from retrenching workers and forcing them to increase hiring at the expense of their fat profits. When the greedy capitalists scream that this will cause their economy to collapse, the workers movement must respond: if you big business owners cannot run the economy in a way that guarantees secure jobs for all workers then we working class people will take the economy out of your hands and place it in our own strong, able and collective hands. A true revolution that brings the working class into economic and state power is, ultimately, what we need. It will ensure secure jobs for all, truly free medical care, education and public housing and, by removing the rule of the exploiting class, it will liquidate the main driver of racist policies. Like the workers state created by the Russian Revolution 100 years ago declared, in its very first constitution, a workers state today would grant asylum to all refugees and give the rights of citizenship to all working class people residing on its soil. Crucially, the overturn of capitalist rule would save us from the real threat that we face, today, of a future triumph of the fascist, hard right form of capitalism.
Yet we do need to do far more than simply proclaim the need for socialist revolution. There are many struggles that we need to engage in right now. A workers revolution can only be built by first uniting the working class and training it to trust only in its own power when that mighty proletarian power is itself united with the power of all other oppressed groups.
History has entrusted our class – the working class – to bring justice to society. We need to mobilise the workers movement in defence of refugees, against racist state terror and as a force that can shut down far-right racist terror groups right in their tracks. The working class must unite across ethnic and national lines in a struggle against racism precisely because we need to train the working class to be the champion of all of the oppressed. So let's be guided by this perspective during our participation in the campaign for the Manus refugees. Let's oppose illusions in salvation through the ALP and Greens within the refugee rights movement! Let's fight to ensure that refugee rights actions are built on openly pro-working class slogans! Let's struggle to root out economic nationalism in all its forms from our unions! We must intensify the agitation to mobilise working class action in defence of the Manus refugees!