An African Person Who Studied in Russia Tells His Story: Capitalism Breeds Racism. A First Hand Account of How Russia's Return to Capitalism Led to An Explosion of Racism.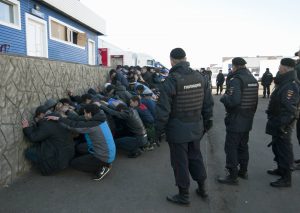 The unemployment, economic insecurity and inequality of capitalism provides a fertile ground for the growth of racism. Racial prejudices are, in fact, consciously nurtured by the capitalist exploiting class as a way of diverting and dividing the working class masses that they exploit. Here in Australia, the big business-owned media constantly stigmatize Aboriginal people even as this country's first peoples face racist police violence and daily discrimination in every aspect of their lives. The Liberal/National regime demonizes refugees and the ALP Opposition acquiesces to this. Then the ALP leaders divert workers' understandable anger at unemployment and fear of losing their jobs into hostility to the presence of immigrant guest workers. Meanwhile, the dog-eat-dog mentality that naturally accompanies an economic system based on cut- throat competition means that everyone is pushed into seeing everyone else as a rival. This, inevitably, leads to divisions within capitalist society developing along racial and religious lines and people from minority ethnicities and religions are, ultimately, victimized.
In short, capitalism breeds racism. The construction of a socialist society will, on the other hand, guarantee that there is no longer a ruling class interested in dividing the masses with racism as well as other means because the very essence of socialism is the ending of the exploitation of the working class masses. Furthermore, a socialist society is based on collective ownership of the economy and economic decisions made for common needs rather than for greedy individual goals. Such a system thus naturally brings people together.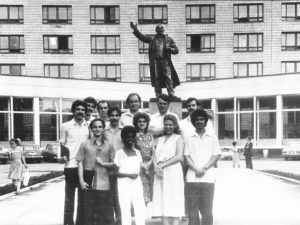 All this is not just theory. It has been proven by history. In its pre-1917 period of capitalist- feudal rule, Russia was an imperialist empire where the non-European peoples of Central Asia and the Caucuses suffered racial discrimination, Jews and Poles faced massacres by fascist gangs called the Black Hundreds and non-Russian nationalities from the Ukrainians to the Georgians to the various Central Asian nationalities faced brutal suppression of their national rights. However, the 1917 October Socialist Revolution in Russia changed all that. The victorious revolutionary workers created their own state, the Soviet Union (USSR) workers state, that over time led to a massive improvement in the status of the Kazakh, Uzbek, Tadzhik, Turkmen, Kirghiz, Georgian, Armenian, Azeri and other peoples of Central Asia and the Caucasus. From the time the communist-led workers took state power, they mobilized to smash the fascist and other anti-Semitic gangs. [6]
Inspired by the Russian Revolution and incensed at the destruction and poverty that capitalist rule had brought them by the end of the inter-capitalist World War I, the years following the 1917 Revolution saw revolutionary struggles break out in Germany, Hungary, Italy and many other countries. However, the communist parties in these countries were too newly formed to lead these revolutions to a victorious conclusion in the way that Lenin and Trotsky's Bolshevik Party (which was later renamed the Communist Party of the Soviet Union) had done. As a result the young Soviet workers state remained isolated and thus faced intense external capitalist military threat and economic blockade much as North Korea faces today. Meanwhile, Russia and the other parts of the USSR were economically devastated by the World War that preceded the revolution and the four years of Civil War that followed it when the Soviet masses heroically defended their revolution against invading armies from fourteen capitalist countries and armies built by the overthrown Russian capitalists. Under these conditions of encirclement and economic scarcity and with the masses exhausted from the years of wars and demoralized by the failure of revolutions abroad, a more right-wing leadership took over administration of the USSR and the Communist Party of the Soviet Union. This leadership turned its back on the internationalist outlook that was key to the revolution and replaced the workers democracy that followed the revolution with an administration where career-minded bureaucrats were allowed to come to the fore.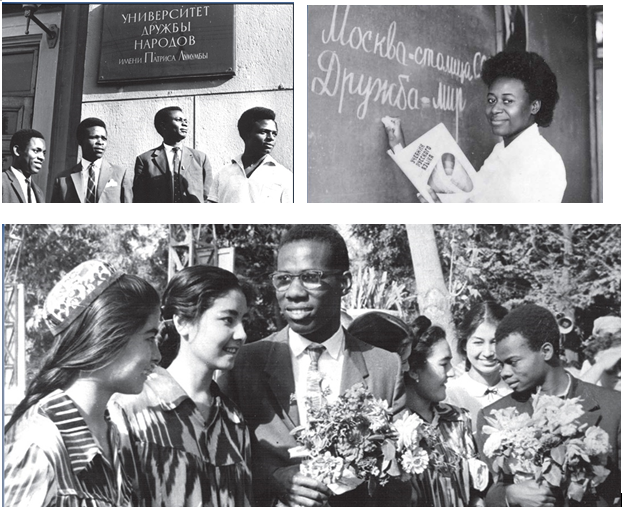 However, despite this bureaucratic degeneration that took place in the mid- 1920s, the USSR still remained a workers state based on the socialistic, collectivized economic system that was established after the Russian Revolution. This system not only brought terrific improvements to the education, health and standard of living of the masses but brought much greater racial equality between the majority ethnic Russians and the diverse non-Russian peoples of the USSR. Although the bureaucratic rulers at various times undermined the founding ideals of the USSR by embracing a degree of ethnic Russian-centeredness, from the time the Soviet Union was able to recover from the great sacrifices and untold human and material cost of its great, heroic victory over the sinister, barbaric and uber-racist Nazi threat in World War 2 and then go on to uplift the standard of living of the masses to a decent level by the 1950s, from that time and up until the immediate lead up to the Soviet Union's collapse in 1991-92, the USSR overall truly did live up to its motto of the "Friendship of Peoples".
Nevertheless, the presence of a bureaucratic administration – with all its accompanying corruption and the fact that ordinary workers were not involved in decision making – prevented the socialistic economy of the USSR from reaching its full potential, something that became more pronounced the closer that the USSR actually came to catching up with the economies of the richest countries. Furthermore, the material privileges of the bureaucracy (as petty as they were compared to the exorbitant wealth of tycoons in capitalist countries) and the suppression of workers democracy depoliticized the masses and weakened their commitment to socialism – even while socialistic rule had greatly improved their lives. All this made the USSR brittle in the face of the gigantic military, economic and political pressures it faced from the capitalist powers who were/are determined to crush any workers state. When a small layer of capitalist counterrevolutionaries backed by Washington, London, Tokyo and Canberra amongst others made its bid for power in the USSR in 1991, the Soviet masses had, in fact, become so depoliticized that most of them did not resist in any effective way at all – even though many were fearful of the consequences of capitalist restoration.
If the establishment of socialistic rule in the former USSR, Yugoslavia, Cuba and China has proved the potential of socialism to eradicate racial oppression and tensions, the 1989-1992 restorations of capitalism in the USSR and East European workers states also proved how it is capitalism that does actually breed racism. Take, for instance, Hungary. In its socialistic period from the late 1940s to 1989, Hungary was known by the many international students from South Asia, the Middle East and Africa who studied there as a place where they were treated with warmth and respect. Although the workers state in Hungary was bureaucratically deformed and the government of the then Hungarian People's Republic was far from perfect in the treatment of the country's Indian-origin, Roma minority, Roma in the socialistic period enjoyed access to guaranteed jobs, improved housing and, most crucially, freedom from racist violence. However, following the 1989 capitalist counterrevolution, Hungary changed into an extremely racist society. Today, neo-Nazi skinhead gangs roam Hungary's streets looking to inflict violence against Roma, Jews and international students. Several Roma have been murdered in pogroms perpetrated by organized fascists and these far-right paramilitaries often descend on neighbourhoods with significant Roma populations to terrorize Roma families with snarling dogs, whips and death threats. These attacks occur with the deliberate non- intervention and often direct connivance of the racist Hungarian police force. [7] Meanwhile, today decent people around the world are aghast at the extreme brutality of the Hungarian regime in its treatment of refugees fleeing Western-instigated violence in Syria, Afghanistan, Iraq and elsewhere.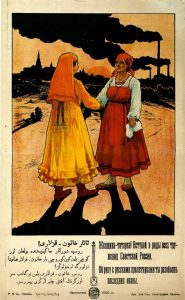 Perhaps the most striking example of how capitalism creates racism can be seen by examining the impact of the capitalist counterrevolution that swamped Russia and the rest of the former USSR in 1991-92. We are happy to present below the experiences of comrade El-Hassan who actually lived in Russia through this period – having arrived in Russia during the days of the socialistic USSR and remaining there until seven years after the counterrevolution. As a dark-skinned person of African origin, comrade El-Hassan felt the question of race relations in a very personal way. He described his experiences in a discussion with comrade Samuel Kim, excerpts of which are detailed below:
Samuel Kim: El-Hassan when did you exactly first go to Russia and when were you there until?
El-Hassan: Before answering that I just want to say – since this discussion will be written up – that I think Trotskyist Platform is doing very good work in the fight against capitalism, fascism and racism. Trotskyist Platform is not just talking but actually organizing and participating in the struggles.
Now I first came to Russia in 1990.
Samuel Kim: That was in the socialistic times, in the times of the USSR.
El Hassan: That's right. I had been living in Sudan and active organizing with the Sudanese Communist Party. In 1989, I found out that I was just about to get arrested and so I fled to Egypt. There I met my brother who had studied in the USSR. Many people from Africa were given places to study in the USSR. My brother encouraged me to study there and helped me apply for a place. There were many communists from Asia and Africa that studied in the USSR. I was granted a place at Moscow State University where I studied journalism.
I studied there until 1994-95, eventually doing my Masters Degree in journalism. After that I stayed in Russia until 1998 when I came here to Australia.
Samuel Kim: So you were in Russia until many years after the 1991-92 capitalist counterrevolution. You saw Russia in both its socialistic days and its capitalist times.
How were you treated during the days of the USSR?
El-Hassan: I was treated very well. All the students, professors and everyone welcomed me and all the other international students. We were very warmly welcomed and respected. I can say that I did not experience any racism at all. There was no racism against anyone.
Samuel Kim: How much did you pay for your studies in the Soviet times?
El-Hassan: I studied for free – I was on scholarship. I also got free board and free food. I did not have to pay rent or any bills. I was given a stipend of 90 Roubles per month. This does not sound like much but things were so cheap then that it was actually a lot. I could save money with that stipend and many of my fellow international students use to send part of their stipend back to their families in their home countries.
Samuel Kim: Another comrade told me that international students in the Soviet Union often went to other parts of the USSR on holiday during university vacation. Is that right?
El-Hassan: Yes. We could get very cheap holiday travel. I myself went on many holidays like to Sochi on the Black Sea coast.
Samuel Kim: What about student politics then?
El-Hassan: There were student groups involved in solidarity with "Third Word" countries. They showed sympathy with many struggles in Africa and around the world. They were against imperialism.
Samuel Kim: What else could you say about life in the days of the Soviet Union?
El-Hassan: There was a rich social life in the USSR. It was great fun. The other important thing is that women had the same status as men then. For example many of the professors at the university were women and women lecturers were amongst my teachers.
Samuel Kim: And what happened after the 1991-92 capitalist counterrevolution?
El-Hassan: Everything changed. Nationalism became more and more prominent. People in the streets became more and more hostile to me. Later even some fellow students started being rude to me. You could tell they did not want me there. Unemployment grew quickly. People were angry and confused and they took it out on us. Many Russian people tried to escape their problems by turning to drugs.
Samuel Kim: What was the attitude of people to the capitalist counterrevolution?
El-Hassan: Many people just stood by and watched it happen and went by trying to live life as usual.
Samuel Kim: Did your material circumstances change?
El-Hassan: Some of the aspects of the old system remained for a while and things took a while to collapse. But things got a lot harder. I was still able to keep my scholarship until my studies finished. However, the stipend was kept at 90 Roubles even when the prices rose very quickly. The 90 roubles was now worth nothing. You could hardly buy anything with it anymore.
After I finished my studies my scholarship ended. I was not able to get a job as a journalist and when I ran out of my money I had to stay with friends.
Samuel Kim: I read that there have been over 1,000 pre-meditated racist murders committed by fascists in Russia in the last ten years. I know that you yourself was physically attacked by Russian white supremacists after the capitalist counterrevolution. Can you describe what happened?
El-Hassan: That happened in 1995 after I finished my studies. Many of my fellow international students had already been attacked by then. I had moved to Voronezh, a city which was about ten to twelve hours by train from Moscow. I was walking along the street when seven neo-Nazi skinheads on the footpath saw me. They started following me and so I walked faster. I knew I was in trouble. I headed towards the bus stop to try and catch a bus away. But they attacked me and I fought back.
Samuel Kim: Did anyone come to help you?
El-Hassan: Yes, several people around came and started shouting at the neo-Nazis to stop. They did not physically intervene but shouted at the skinheads who eventually stopped. I ended up bruised and with a black eye.
Samuel Kim: What did you do for work in Russia after you finished your studies?
El-Hassan: There was a lot of unemployment and people in Russia were angry and confused. I became a worker at a store carrying cartons. But all these stores were being bullied by the mafia. The boss where I worked had to pay protection money to the mafia. I think it was something like $700 a month. The mafia threatened that if the store owners did not pay their store would go up in flames. The shop owners all feared that the criminals would carry out their threats. Russia became run by mafia.
Samuel Kim: What was life like after you moved to Australia?
El-Hassan: At first I thought that my life would be very good when I got residency in Australia. But my journalism qualifications were not recognized. The racism in Australia has been getting worse and worse and in the last year it has got extremely bad. I told you what happened to me recently. I was taking a passenger [El-Hassan now works as a taxi driver] and suddenly he started threatening me. He said that you Muslims want to kill us so I am going to kill you first. I was in a bad situation as I was driving the taxi and was getting on to the M4. It would have been very dangerous to be in a fight at that moment while driving. I said no I do not want to kill anyone. He then said that if he sees me again he will cut my head off and play football with it just for fun.