Good News:  China's Arrest of Crown Executives Endangers Packer's Barangaroo Project
Above Left, Australia, 2016: Police harass a homeless Aboriginal family in Sydney's Belmore Park. In Australia, the legal system targets the working class and people on the lowest income. Aboriginal people are hit with severe racist, anti-working class repression with many Aboriginal people being killed in state custody. By contrast, in socialistic China, where the overall rate of imprisonment is much lower than Australia, the system is toughest on rich capitalists and corrupt government officials. Above Right: Xu Ming, one of many billionaires jailed in China. In December 2015, this capitalist exploiter, who was once one of China's richest people, died in state custody at age 44. James Packer is used to Australia's system where his exorbitant wealth and economic power buys great political influence. However, his assumption that things would be the same in the Peoples Republic of China have started to bring him a rude shock.
18 November 2016 – Greedy billionaire, James Packer, has been riding high. He was expecting to make an absolute fortune from his Crown Resorts casino and luxury hotel complex which will be built in the Sydney CBD's, Barangaroo site. However, he was brought back down to earth a bit last month when authorities of the Peoples Republic of China (PRC) detained 18 of his wealthy executives. Among the high-flying Crown executives that the PRC has arrested are at least three Australian ones including Crown's boss of VIP operations, Jason O'Connor. Those arrested are alleged to have been involved in organising the very activities that Packer's high rollers' casino will in good part depend on: luring high rollers from China to gamble at his casinos and other wealthier Chinese to hold their money in overseas casino accounts. Luring Chinese people to do this is illegal under PRC law. Packer and his executives knew all this. But they were so greedy that they could not help themselves and thought they would get away with it anyway. After all, in capitalist Australia, Packer and his ilk always get away with whatever they want! However, China is a very different story. In socialistic China, the "right" of business tycoons and other rich individuals to ride roughshod over everyone else and make a mockery of state laws is severely "repressed." The PRC, understandably, does not want wealthy individuals depositing money in overseas casino accounts as that could be used to circumvent its strict capital controls which restrict the "rights" of the rich to freely move money about internationally. China also does not want corrupt businessmen and officials to use overseas casinos to launder dirty money or avoid taxes.
If Crown's efforts to lure Chinese high rollers and wealthy individuals are severely curtailed, it could spell doom for Packer's Barangaroo complex. Although the proportion of high rollers in China is tiny, China has such a huge population (60 times that of Australia) that these high rollers are, numerically, a big number. Furthermore, since gambling is outright banned in mainland China and PRC authorities have been cracking down on wealthy mainlanders travelling to Macao to gamble, Chinese high rollers now need to travel abroad to gamble. Similarly, other wealthy Chinese individuals need to deal with casinos located overseas in order to secretly move or launder money. That is why Packer was counting on luring Chinese high rollers to Barangaroo as a main income source for his casino.
One of the many positive aspects of the China arrests for working class people in Australia is that it could help the struggle to save public housing in Sydney's Millers Point area which is right adjacent to the waterside Barangaroo site. Several of the Millers Point tenants who have been staunchest in resisting the NSW government's drive to sell off public housing in the area are convinced that part of what is driving the government's moves is Packer's, very nearby, casino/hotel project. Their suspicions sound more than plausible. Certainly, it is beyond question that mainstream politicians of all stripes and states are servile to Packer. As the The Saturday Paper (12 April 2014) put it when describing the way that Packer received official backing for his Barangaroo plan:
State and federal laws and regulations have flexed or melted away in the project's path. Ordinary rules don't seem to apply to James Packer.
Thus, after the cabinet of corrupt then premier Barry O'Farrell openly announced its backing of the Packer plan, it appointed to head the "independent" detailed assessment of the project, David Murray, an ex-banker and a Liberal party supporter who has such close ties to Packer that he attended Packer's first wedding! This "assessment" ended up being even more farcical than expected. The "independent" panel chose to seek their commercial advice about Crown's proposal from Deloitte which has had a financial relationship with Crown. Meanwhile, it was uncovered that even before the "independent" panel had made its "assessment," the NSW Premier's department prepared it with statements to help it defend the Crown proposal from any negative media questioning! After bowing to a notably low tax rate for the planned casino, the state government then further facilitated Packer's interests by ramming through a 2013 amendment to the Casino Control Act specifically to support Packer's Barangaroo project. This special change to the Act had the support of not just the governing conservative Coalition but also the ALP and the Shooters Party. Even Fred Nile, supposedly a vehement opponent of gambling, campaigned strongly in favour of it. These amendments to the Act are so slavish to Packer that they ensure that Crown must be paid compensation if any future regulatory changes – like tax increases – hurt its profits. The Act even stipulates that the Independent Licensing and Gaming Authority (ILGA) cannot make any changes's to a Barangaroo casino license without approval from Packer's Crown! Not that the ILGA is prepared to stand up to Packer anyway. When, the following year, this "independent" authority conducted its probity check on Crown's suitability to hold a casino license, the ILGA took only three months to pass Crown which, in the own words of the ILGA chief Micheil Brodie, "probably rates as one of the fastest assessments of a casino applicant in history". Meanwhile, not only has Packer's complex been infamously excluded from Sydney's controversial lockout laws, it was granted a special exemption from workplace health and safety laws restricting smoking in indoor workplaces. As Australian Institute of Architects NSW president, Shaun Carter, put it after Crown's casino/luxury hotel complex was granted final planning approval this June:
In Sydney you can end up in the Land and Environment Court over a dormer window. But at Barangaroo, you can double your size and replace a public park with a casino with no trouble at all.
http://architectureau.com/articles/approval-of-crown-barangaroo-tower-disappointing-institute-says/

The Reality of Capitalist "Democracies"

James Packer's massive, $105 million luxury yacht and his $66 million private jet. Like other capitalist tycoons, Packer uses his immense wealth and economic power to gain political influence. Packer is great mates with former prime minister Tony Abbott [Above Right], current prime minister Malcolm Turnbull and most other top politicians.
 In this capitalist society money buys influence. Filthy rich tycoons are able to swing political and bureaucratic decision making through giving hefty donations to political parties, through buying expensive newspaper advertisements (such as the full page ones that Packer's Crown made promoting its Barangaroo plans) and by having membership in business lobby groups. It is well known that some of the ultra-rich also openly buy out politicians and government officials through open bribery or through purchasing them other favours – like liaisons with high-priced prostitutes. More common, however, are the softer – and yet more insidious – forms of buying influence that almost all capitalist bigwigs engage in.  These include inviting politicians and bureaucrats to corporate boxes to watch the cricket or inviting them to exclusive parties and cruises on their luxury yachts. The ultra-rich capitalists also buy political influence through more subtle means – for example, through funding the arts. On 12 November 2013, the very eve of the day that the NSW parliament voted on amendments to facilitate his Barangaroo project, Packer ostentatiously announced a $60 million donation to various Sydney arts, theatre, opera and orchestra institutions by both his Crown Group and himself personally. This was intended to put pressure on any politicians who may have been considering voting down the amendment with the prospect of gaining the opprobrium of the arts community. Meanwhile, any politicians concerned that open support for Packer's unpopular Baranagroo project could damage their image would now be re-assured that Packer's donation would make him be seen by the public in better light. Furthermore, although $60 million is barely pocket money for a person who has a $5 billion fortune ("earned" by his and famous late father and grandfather's ripping off of the labour of workers), it represents a lot of money to underfunded arts institutions. Imagine a talented young artist asking to get funding from a head of one these Packer-donated institutions for a project satirising the Banagaroo complex. It's a sure bet that they won't get very far!
We cannot, of course, forget the lobbyists – a big factor in modern-day capitalist "democracies." It is only the super-rich who can afford to hire skilled lobbyists. Packer, for example, employed former ALP heavies Mark Arbib and Karl Bitar to use their connections to ensure that the ALP backed the casino. In general, business bosses like to employ former – and, if they can get away with it, even current – politicians and high-level bureaucrats to be on their boards in order to use the connections of these individuals to gain them extra influence in the machinery of state. Thus, amongst the board of directors of Packer's Crown is former Minister of Communications in the Howard government, Helen Coonan. For his part, Crown CEO Rowen Craigie was a General Manager for Gaming at the Victorian TAB and held senior economic policy positions in Treasury and the Department of Industry in Victoria. Another Crown director, former Qantas boss, Geoff Dixon, was head of the Australian government's main tourism authority, Tourism Australia, from 2009-2015: that is, throughout the crucial period when Packer was seeking government backing for his Barangaroo project. Big-time capitalists use a similar method to help ensure media support. Thus, the executive deputy chairman of Crown, John Alexander, is a director of Seven West Media – the owner of Channel 7 and its offshoots as well as Yahoo7. He is also a former editor in chief of both The Sydney Morning Herald and The Australian Financial Review. Even more effective in ensuring media support is simple, direct ownership. Packer, himself, directly owns a $28 million stake in the entity that owns Channel 10. So, don't expect this broadcaster to run any hard-hitting documentaries against Crown's Barangaroo project anytime soon! Very helpful, too, for capitalist billionaires are the "mates" connections that they develop with media moguls and media high-fliers. James Packer is very close friends with influential, right-wing 2GB shock-jock, Alan Jones, with the 45% owner of Macquarie Media Limited (which owns both 2GB and 2UE) John Singleton and with Lachlan Murdoch, a director of News Corporation (owner of The Australian and The Daily Telegraph newspapers, a host of regional and interstate papers and 50% of Foxtel) who is, of course, the son of its chairman and controlling shareholder, Rupert Murdoch. Then there are the myriad of connections arising from Packer and his father's former ownership of Channel 9.
Such "mates" connections also cement ties between capitalist bigwigs and the politicians that administer their state. James Packer, for instance, is such close friends with former Liberal prime minister, John Howard, and ex-treasurer, Peter Costello, that they both, once again, attended his first wedding. Packer also played golf with Stephen Conroy when the latter was Communications Minister in the last ALP federal government. Packer is good mates too with Bob Katter and former Victorian premier, Jeff Kennett. Meanwhile, recent ex-Trade Minister, Andrew Robb, had worked for Packer's PBL company from 1997-2001. What gives individual big capitalists political clout is not only their personal wealth and connections but their control of large chunks of the economy. Capitalist politicians and high-level bureaucrats are always on the lookout for lucrative positions in the private sector to move into once their careers in government or the public service are over. Thus, big business owners can lure these politicians and bureaucrats into doing their bidding precisely because these schmucks hope that this would open up a future career for them hired either directly as executives of or as consultants for their corporations (the way that former Labor powerbrokers Graham Richardson, Karl Bitar and Mark Arbib and prominent Liberal socialite, Ann Peacock, did in getting positions in Packer companies) or by other companies looking to establish links with these corporations. Even less cynical government politicians who actually believe (wrongly!) that they are to some degree representing the people are pulled into the orbit of those with considerable weight in the economy. For in an economic system dominated by private "enterprise," they are reliant on these firms for providing jobs and for paying taxes into state coffers. The threat of big corporate bosses to withdraw from a major project can be enough to pull government politicians into line.
For those politicians and bureaucrats that still refuse to bow down to a big capitalist's interests, the latter have nastier means at their disposal. Just as tycoons can build up a loyal politician's or bureaucrat's career, the way that the Pratt family industrial capitalists – who are currently second on Australia's rich list – were the benefactors ensuring ALP Opposition Leader Bill Shorten's rise (the late Richard Pratt used to let Shorten use his extravagant mansion for fundraising events when Shorten first campaigned for a parliamentary seat and even made his private jet available for Shorten's use), they can also leverage their wealth to topple the careers of those who are not loyal enough. Look, for instance, at what happened to former ALP prime minister Kevin Rudd in mid-2010. Now, Rudd was an ardent supporter of the capitalist order and, thus, hardly one to make a strong stand against capitalist bigwigs. However, in 2010 he was planning to implement a Resources Super Profits Tax that would have mildly increased the amounts of tax that big mining bosses pay. That was too much for mining tycoons like Gina Rinehart, Andrew Forrest and Clive Palmer who are not prepared to share even a fraction of their fortunes with anyone. They – and other mining capitalists – went on a massive advertising campaign against the tax that saw them spend $22 million in just six weeks. Meanwhile, their friends in the Murdoch and other media outlets backed the campaign against the new tax. All this contributed to a steep fall in popularity for Rudd and enabled his internal ALP rivals to replace him as prime minister. Dancing completely to the tune of Australia's mining billionaires, the new Gillard government then immediately watered down the tax to such a great degree that it hardly collected any money at all! Of course, the mining tycoons' opposition to the Resource Super Profits Tax was not the only reason that Rudd was toppled. Rudd is an arrogant individual and was not liked much by his fellow ALP politicians. However, the decisive factor in his demise then was the slump in his opinion poll numbers caused by the massive advertising and media campaign against the Resources Super Profits Tax – a campaign conducted at the behest of the filthy rich mining bosses. The Packers, too, are well aware of the power that they have to bring down politicians or top-level public servants who, even in the slightest, get in their way. And they're quite prepared to use it! In 1993 when James Packer and his late father, Kerry, first put in a bid for a Sydney casino, James Packer famously rang a Minister in the then NSW Liberal government and said: "the old man told me to ring… this is the message: If we don't win the casino, you guys are f_cked".
The truth is that in capitalist "democracies" the much vaunted principle of "one person, one vote" is a farce. For it is the small number of ultra-rich capitalists who have the wealth, control of the economy and connections to influence decision making and shape mainstream public opinion. James Packer with his $5 billion fortune seems to have more influence than at least half of the 5 million or so registered voters in NSW combined. So $5 billion is equal to at least 2.5 million votes.  On average that means: two billion dollars = one million votes. Now that's much more like the true equation describing capitalist "democracy."
To be sure, the capitalist state does not serve one particular bourgeois capitalist. Rather, in the words of the Communist Manifesto:  "the executive of the modern state is but a committee for managing the common affairs of the whole bourgeoisie." However, the relative weight of a handful of tycoons in Australia is so great that the state almost always backs their particular interests.
Save Millers Point Public Housing!
Defend China's Crackdown on Packer's Greedy Executives!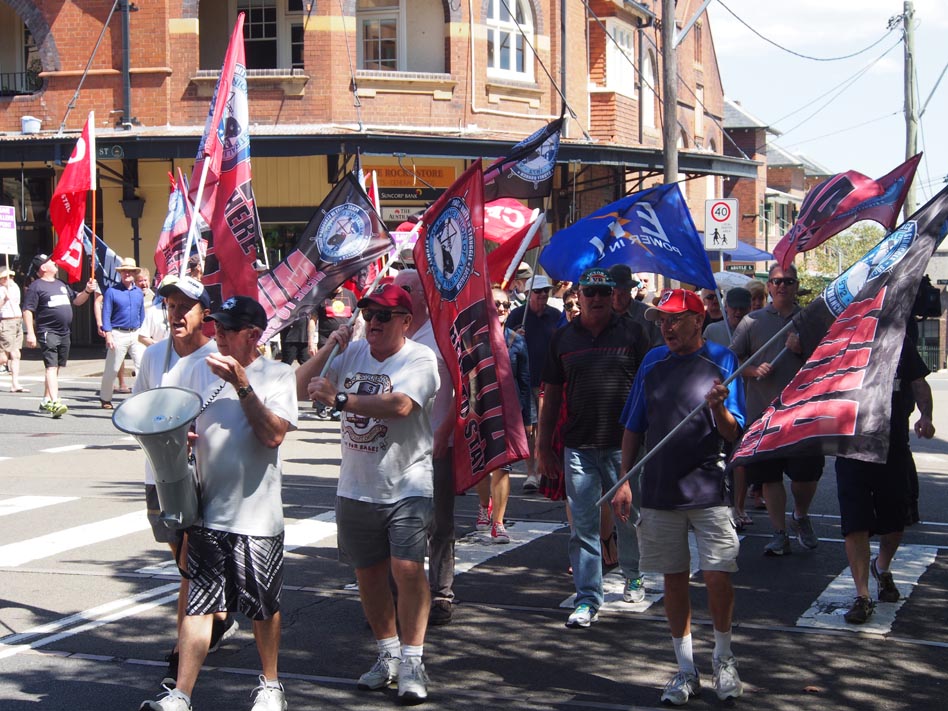 So Packer certainly had more than enough influence to instigate a sell-off of public housing in Millers Point if he wanted to. Would he want to? Yes would be a very good bet on the right answer to that question. Clearing out Miller's Point public housing would allow the area to be turned into luxury dwellings that can be used by his casino patrons looking for longer-stay, nearby accommodation outside the hotel and for his executives overseeing the casino/hotel complex. All that would help with Packer's project. Furthermore, even if a re-developed Millers Point site ends up not being directly used, in its majority, by patrons and executives of Crown's Barangaroo complex, the planned complex is nevertheless driving wealthy speculators to try and grab hold of this land. Such speculators have no doubt been lobbying the government for the sell-off of public housing in the area too. The boost in property prices driven by Packer's Barangaroo project also gives the NSW government itself more incentive to sell-off the Millers Point public housing as it means they can get higher prices at auctions than they otherwise would.
However, if the Peoples Republic of China follows through with its crackdown on Crown's efforts to lure high rollers and other wealthy Chinese to deposit money in Crown casinos then the whole game would change. Packer's Barangaroo project could be pushed into deep water. And if part of the economic forces that are driving the government's sell-off of Millers Point public housing are stopped then the government will be more prepared to back down if faced with significant opposition from our side. That is why it is in the interest of the fight for public housing that we stand by the PRC's crackdown. Furthermore, although we do not favour bans on gambling in Australia, it can only be a good thing more generally if Packer's Barangaroo project goes splat. The whole philosophy behind the project is offensive to us egalitarians: that is, that scenic, beautiful-looking public space could be turned into a members only, high-rollers casino that only the very wealthy can afford to join and a six-star hotel that only the rich can afford to stay in.
Whether the PRC follows through and prosecutes the rich Crown executives is still a live bet. You can certainly bet that James Packer would be using his economic and political muscle to push the Australian government into pressuring the PRC state as relentlessly as possible.  However, the determination of PRC authorities to crack down on Crown's activities was shown when the suspects were first detained. They were detained in meticulously planned and coordinated overnight raids in several cities. PRC authorities also carefully waited for a time when Crown's Australian-based VIP international boss, Jason O'Connor, was on a trip to China to launch the raids. Under China's legal system, suspects are first detained and questioned and then only after lengthy investigation formally arrested if police believe that there is strong evidence of wrong-doing. The fact that the three Australian crown executives were formally arrested today – five weeks after being initially detained – show that Chinese authorities believe that there is clear evidence that they have committed illegal acts.
In standing by the PRC's crackdown on Packer's seemingly illegal actions in China, we should be ready for a barrage of condemnation of the crackdown from the big business-owned Australian media and ruling class politicians. That's what happened the last time the PRC prosecuted corruption from a major Australia-owned multinational. In 2009, China arrested several high-flying executives from part-Australian owned, mining giant Rio Tinto for corrupt activities. Some of these corrupt activities involved making bribes to get PRC state-owned steel companies to pay higher prices for Rio's iron ore than they would otherwise have paid. Especially as the trial of the Rio Tinto executives took place, then Australian prime minister Kevin Rudd, National Party heavy and now deputy PM Barnaby Joyce and the mainstream media hysterically denounced the PRC's legal procedures. It did little good. The PRC ended up handing the senior Rio executives lengthy jail sentences – including ten years for Australian Stern Hu. Rio Tinto like BHP, Packer's Crown, Gina Rinehart and Andrew Forrest's Fortescue may be above the law here. However, in Red China, where enterprises under socialistic state ownership play the dominant role in the economy rather than corporations owned by tycoons, the state does not in general kowtow to the demands of capitalist bigwigs.
One of the things that the Australian mainstream media and politicians may throw out to defend Packer's arrested henchmen is the claim that the arrests are arbitrary and over the top. However, it has now emerged that PRC authorities actually issued a stern warning to Crown last year that it was engaging in illegal activities. Australian Crown bosses then responded by trying to fly under the radar of PRC authorities by making short business trips to China instead of spending long stays there. They also started formally marketing their casinos to Chinese people as trips to "resorts" rather than casinos as a way to try and deceive PRC authorities.
Another bit of propaganda that Australian media and politicians may assert in support of Packer is the notion that Crown and Australians have been unfairly singled out by Chinese authorities. However, the PRC has already targeted other overseas casino operators. Last year, thirteen executives of two South Korean casino operators, Paradise and Grand Korea, were jailed for similar crimes to what the arrested Crown executives are apparently alleged to be involved in. Meanwhile, in a massive raid a few months ago, police in the south east Chinese province of Guangdong arrested almost 800 local people for economic crimes including "organizing illegal gambling activities overseas." Furthermore, in the actual Crown arrests, alongside the three Australian nationals, one Malaysian national and 14 local Chinese nationals were also arrested. Furthermore, eight other Chinese people not working for Crown, some of them likely high rollers, were also detained in the October raids.
If the Australian mainstream media try to give the impression that only overseas businesses and their employees have been targeted in China that too can be easily re-butted. These Crown arrests are, in fact, part of a massive anti-corruption campaign that has been running in China for over two years. Although in some cases there is suspicion that Chinese president Xi Jinping has used the campaign to undermine factional rivals within the Communist Party of China, the campaign has truly clamped down on corruption. Hundreds of high-ranking politicians and businessmen have been prosecuted. Furthermore, perhaps the best aspect of the anti-corruption campaign is that it has to some, albeit small, degree also drifted into a campaign against the opulence of the rich. Thus, in early 2014, Communist Party of China authorities in major Chinese cities ordered the closure of high-end clubs and expensive restaurants near public parks, scenic spots and cultural sites because these venues could not be accessible and affordable to the masses.  It is worth noting here that Sydney's Barangaroo area is definitely such a scenic spot. In other words, if PRC law were applied here, there would be no Crown Barangroo project (even without the casino)!  By the way, in the PRC's anti-opulence drive, those formerly high-end clubs and restaurants located near public spots that were allowed to stay open were ordered to lower their prices and change their menus to turn them into places affordable to the masses. So, if the PRC law were applied here, Packer at best would see his Barangaroo project being turned into a centre with free entry nightclubs serving cheap drinks, affordable buffet restaurants for the masses enjoying the waterside parks and a three-star hotel providing clean and cheap accommodation for working class tourists from Australia, China and other Asian and overseas countries looking for an affordable place to stay in the heart of the city.
Perhaps the most likely argument that the Australian ruling class and its media will use to oppose any PRC prosecution of Packer's henchmen is to claim that the PRC's legal system is "cruel" and "harsh." However, actually, Australia's rate of imprisonment is nearly 30% higher than China's. What is true is that the PRC does jail business tycoons at a much higher rate than Australia. So the difference between Australia's current legal system and the PRC's is a matter of who is targeted by the state. In Australia, the state jails disproportionately target Aboriginal people, people from Middle Eastern and Asian derived ethnic communities and the poor. In contrast, in the PRC workers state – despite suffering from plenty of bureaucratic deformations and the distortions caused by capitalist intrusion – it is wealthy private sector businessmen and the corrupt politicians and bureaucrats who are bribed by them who are disproportionately jailed. Australia's capitalist ruling class, of course, finds such a system "harsh" and "cruel." However, from the point of view of the working classes of both China and Australia such a system is exactly what is needed. We should defend it! And we should defend the crackdown on Packer's and his executives' illegal activities in China. Let's weaken the economic forces driving the push out of public housing tenants from Millers Point! Stop the social cleansing of working class people from Sydney CBD! It is rail workers, bus drivers, ferry drivers and their ground staff, cleaners, warehouse workers, chefs, liquor and hospitality workers, construction workers, maintenance workers, fire brigade employees, ambulance staff, sales assistants, IT support staff and other workers who together make the Sydney CBD run. Yet the overwhelming majority of these workers cannot afford to live in the area. Let's turn this around! Let's turn the public space that was seized for Packer's Barangaroo project into a big public housing block for working class people! Let's fight for a massive increase in public housing throughout Australia! Fittingly, that is exactly what the PRC is doing – having provided around 40 million new public housing dwellings over the last six years.
China's crackdown on Crown is not only good for the Millers Point public housing struggle, it is also more broadly in the interests of the working class. James Packer is such a powerful – and in Australia seemingly untouchable – capitalist that many here are resigned to him getting his way on everything. The fact that his executives could be called to account in the Peoples Republic of China should be used to give Australian workers confidence that the filthy rich bosses of this and other corporate giants are not invincible. Every fighter against oppression and every Australian trade union activist worth their salt ought to be seizing on this setback for Packer's Crown to challenge, right here, the greedy exploitation by all the billionaires and the corporations that they own: including the likes of Crown, BHP, Rio Tinto, Visy, Seven West, Westfarmers, Woolworths and the banks. They should be saying to their proud and strong working class base: China is cracking down on corporate greed and corruption – we need to start to do that here too!